Chrysler to Offer Dealer-Activated Navigation Systems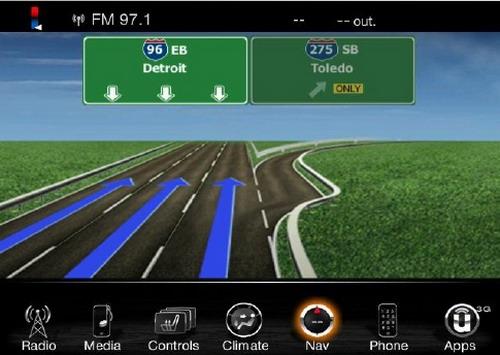 Until now, new-car shoppers who want a navigation system have to pick a more expensive navigation-equipped vehicle at the dealership or have an aftermarket system installed into a lower trim level. At this week's 2013 Consumer Electronics Show, Chrysler announced plans to address that with a dealer-activated navigation system. Basically, the automaker will offer standard — but deactivated — navigation in cars equipped with the Uconnect dashboard screen. Pay for the option and dealers will activate it. It's sort of like how your TV's cable receiver could play a gaggle of premium channels but locks them out until you pay up.
Dealer-activated navigation requires Chrysler's Uconnect Access system, the latest version of Uconnect. It debuts in the 2013 Ram 1500, 2013 SRT Viper and 2014 Fiat 500L, with screen sizes ranging from 6.5 to 8.4 inches. Dealers can activate navigation when you buy the car or if you decide you want it later on. Chrysler spokesman Eric Mayne said dealer-activated navigation will run $595 in the Ram, but there's no pricing on the other two yet.
We'll see if Chrysler finds many takers down the road. A handful of Ford owners are clamoring for a similar post-purchase option on cars that have MyFord Touch and its dashboard screen but not the navigation option. Dealer-activated navigation "is theoretically possible, but we've not seen the customer demand for it yet," Ford spokesman Alan Hall said. "Most people purchase navigation up front when they order or choose the car."
Related
Dodge to Introduce 2013 Dart GT at Detroit Auto Show
Aha Mobile App Gains Popularity Among Automakers
More Gadget News