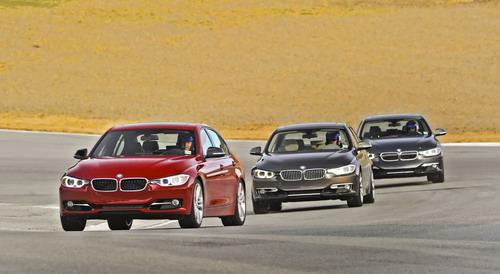 Luxury cars account for a sliver of auto sales. Last year, the Chevrolet Impala outsold all of Cadillac. Toyota Prius sales nearly matched the automaker's entire Lexus division. In fact, just three nameplates — the BMW 3 Series, Lexus RX and Mercedes-Benz C-Class — broke the 75,000 barrier in 2012's annual sales totals. None of them hit six figures.
The 3 Series led the group, earning the title of America's best-selling luxury car for the third year in a row. It's held that spot for eight of the past 10 years. It may not stay that way, though. Here's why.
BMW redesigned the 3 Series sedan for 2012, but the coupe and convertible carried over for two model years. Last month, the automaker
announced
that a redesigned coupe concept will arrive at next week's Detroit auto show — but not as a 3 Series coupe. BMW will call the car the
4 Series
coupe; a 4 Series convertible will probably follow. That could knock the 3 Series way off its sales perch.
The 3 Series' success comes partly from its wide variations: sedan, coupe, wagon and convertible. Losing two of those could deal a blow to the sort of thing marketers crave: No. 1 status, which is something you can flaunt all year long. BMW spokesman Kenn Sparks tallied it up for us, and in 2012, 13% of all 3 Series sales went to the coupe; another 11% went to the convertible. Wipe that chunk off 3 Series sales down the road and the car would fall below the second-place RX for years to come — something Lexus marketers would no doubt celebrate.
It's happened to other automakers before. Audi built an A4 cabriolet (convertible) through much of the 2000s, which it grouped with A4 sales. When the automaker replaced the drop-top A4 with the A5 cabriolet for 2010, convertible sales moved from the A4's column to that of the A5, and the A4's tent invariably shrank.
One option for BMW is to combine 3 Series and 4 Series sales into the same figure. Toyota does that with the Corolla and Matrix, after all. Sparks said that's up to the automaker's German executives.
"As for what the name change will do to the [3] Series' position in the market, I don't know," he said. "I'm not sure it's decided [yet] how the reporting will be handled."
He doesn't think any of them will lose sleep over it, though.
"BMW never compares itself" in sales or other statistics, Sparks said. "You'll never see that in any of our marketing."
It seems the top finisher could relinquish its sales crown, but it sounds like BMW doesn't care much for crowns in the first place.
Related
BMW 3 Series Coupe Gets a New Number
BMW's Matte Paint Requires Sharp Attention
More Automotive News