Dodge Turns to Crowdsourcing to Sell Darts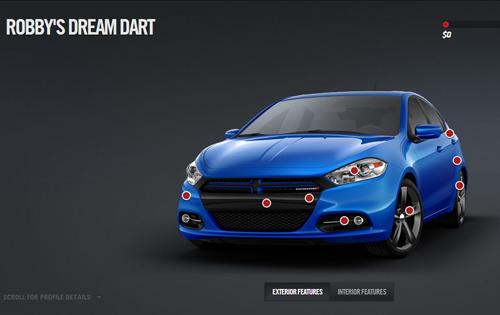 Social media has played an increasing role in the automotive industry during the past few years. Now Dodge is using a form of social media called crowdsourcing to alter the new-car buying process.
What is crowdsourcing? In this case, if you're looking to buy a new Dodge Dart, you'll now have the ability to reach out to your friends and family via the Dodge Dart Registry to help fund the purchase. This registry is similar to KickStarter, a popular online crowdsourcing community used for supporting independent film productions, inventions and other projects that need funding.
Through the Dodge Dart Registry, those wanting to someday drive a new Dart off a dealer lot, can build — or should we say customize — their own Dart, which will then appear on a public page for people to sponsor. Money raised through that individual's registry can be applied to either the full purchase of the new vehicle or toward specific parts like special wheels, heated seats or keyless entry. On your profile, you can upload a photo — maybe of that old clunker you're trying to replace — write a short biography and set limits for donation tiers.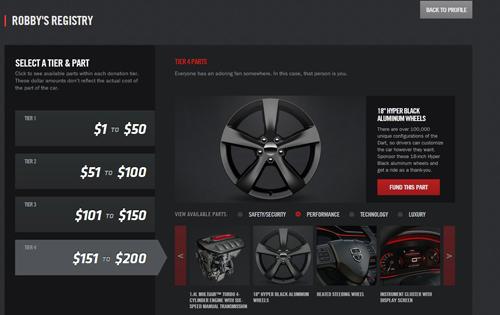 So far, more than 540 members have launched a funding page for their own future Dodge Dart, and some have already raised hundreds of dollars. Check it out
here
.
Dodge isn't the first automaker to try crowdsourcing. Arizona-based Local Motors built a 50-state, street-legal "offroadster," called the Rally Fighter, entirely through an online forum community and contests with its fans.
Related
Research the 2013 Dodge Dart
Cars.com Reviews the 2013 Dodge Dart
Dodge Dart, Lexus ES and Two More Named Top Safety Picks