Infiniti to Make Hybrid Version of Every Car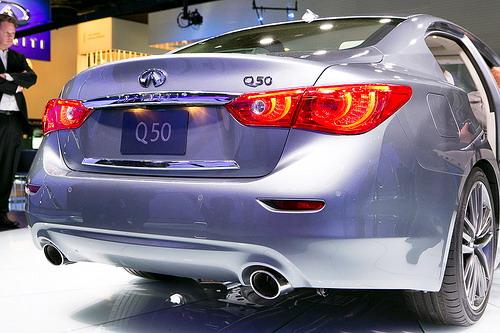 Nissan wants its Infiniti luxury division to sell 500,000 cars a year across the world, with 200,000 of those sales coming from China. The automaker also wants to sell more low-emissions cars, but it expects a production version of Infiniti's LE concept to account for just 25,000 global sales a year — a relative blip on the radar. How else do you sell more green vehicles? Build hybrids and a lot of them.
More 2013 Detroit Auto Show Coverage

"Every new [Infiniti] car that we bring will have within its lineup a hybrid," Andy Palmer, Nissan executive vice president, said at this week's 2013 North American International Auto Show in Detroit. Palmer spoke at a media roundtable with other Nissan executives.
Hold on there. Toyota made that lofty pledge
in 2006
but backed off
two years later
.
Infiniti would seem to have better chances. After all, the brand only has six cars — not dozens like Toyota and its Lexus/Scion subsidiaries. Two of those cars — the new
Q50
and soon-to-be-Q70
M
— already have hybrid variants.
What's more, analysts say hybrids will gain significant traction. Jeff Schuster, senior vice president at LMC Automotive, expects hybrids and plug-ins to account for 4.3% of new-car sales in the U.S. this year, up from 3.4% in 2012. But just a small sliver of that will be plug-ins. Schuster spoke at the Society of Automotive Analysts conference on the eve of the auto show. In 2019, he estimates 7.8% of cars will be hybrids or plug-ins, but just one in 13 will have a plug.
"I think there's more buzz and hype over the vehicles right now," he said.
Infiniti will have a foot in both pools, but the bigger shoe lands among plugless hybrids.
Related
2013 Detroit Auto Show: Winners and Losers
Infiniti Q50 Video
More Automotive News