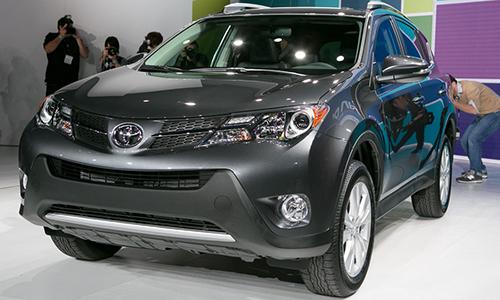 Back in April, we asked the question: what is the most affordable compact crossover on the market? That was when a new Honda CR-V, Mazda CX-5 and Ford Escape were hitting the scene. We're looking at it again so soon because a redesigned Toyota RAV4, one of the best-sellers in the segment, has been priced and goes on sale this month.

Last go round we compared 13 models, finding the least expensive trim level of each one that featured some common equipment: an automatic transmission, Bluetooth connectivity, steering wheel audio controls, cruise control, remote keyless entry, a USB/audio jack port, tilt and telescoping steering and roof rails.

We've dropped the roof rails requirement, which has changed the possibilities somewhat—the Ford Escape can now be had in S trim instead of SE, making it more affordable. Other models have revised their pricing and one contender was quietly revised for the 2013 model year. That means we have a new affordability champ.

How does the new RAV4, unveiled at the 2012 Los Angeles Auto Show, stack up?

Gone is the optional V-6 engine however, leaving only one powertrain: a rather unremarkable 176-hp 2.5-liter four-cylinder. Unlike competitors employing turbocharging or direct-injection technology for a boost to fuel economy, Toyota has gone with a new six-speed automatic transmission to earn a 24 mpg city, 31 mpg highway EPA rating for the front-wheel-drive version, or 22/29 for the all-wheel-drive model. This is good enough to beat the segment average, but not by much. Mileage is factored into our affordability equation though.

Cars.com's Jennifer Geiger has driven the new model, and declares that it's a solid entry in the segment, but some buyers may miss V-6 power and third-row seating which is no longer offered.

There are some notable additions however, including a standard rear back-up camera and a 6.1-inch "Display Audio" touchscreen. Front-wheel-drive 2013 RAV4s start at $24,175 for the LE trim, including an $845 destination charge; this is the model we used for our comparison. The mid-range XLE starts at $25,165 including destination and adds 17-inch alloy wheels, moonroof, fog lamps, automatic climate control and more. The top line Limited model rings in at $27,885 and features standard SofTex seating, power driver's seat, power liftgate and a bunch of optional electronic aids only available on the Limited. All-wheel-drive is a $1,400 option across all trim levels.

*Based on 45% highway, 55% city driving, 15,000 annual miles and current national average fuel prices: $3.22 a gallon for regular gasoline, and $3.54 a gallon for premium on the Volkswagen Tiguan. All prices include the manufacturer's destination charge.
The RAV4's numbers put it solidly mid-pack for the segment in terms of competitiveness on fuel efficiency and overall ownership cost—beating the average by only a few hundred bucks. But the new leader in terms of affordability is a surprise entry: the lightly revised 2013 Mitsubishi Outlander Sport.

 

Coming in very low at $21,195 (including an $825 destination fee) and featuring all the requisite equipment, it undercuts the RAV4 by nearly $3,000 but matches it for fuel economy. Admittedly, the Mitsubishi's driving experience is a step below the RAV4's in terms of refinement (a 30-horsepower deficit and an awfully loud continuously variable transmission bring no fun to the Mitsubishi driver), but maybe its overall cost-of-ownership advantage will help shoppers overlook this stylish little crossover's shortcomings.

Related
Research the 2013 Toyota RAV4
Research the 2013 Mitsubishi Outlander Sport
Research More Compact Crossovers