Kia Connects With Google for Destination, Directions Service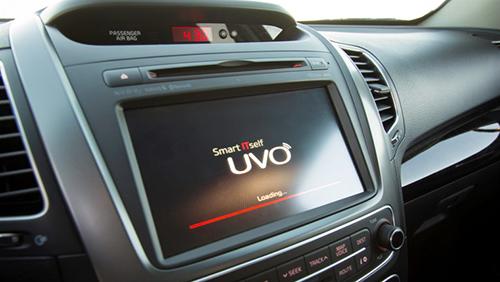 Kia announced today it has teamed up with Google to enhance the second generation of the automaker's voice-activated multimedia system. The new version of Kia's UVO ("Your Voice") will help motorists more easily determine where they want to go and how to get there, according to the automaker.
The feature, integrated into UVO's eServices system, will use Google Maps and Google Places to allow motorists to search for driving directions and points of interest. The new smartphone-app-based services will debut during the first quarter of this year in the 2014 Kia Sorento crossover. Other models will follow, including the 2014 Forte sedan.
Kia drivers will be able to access the feature whether they are in or away from their vehicles by sending a destination directly from Google Maps on their smartphones via the UVO app. While in their vehicle, drivers can use Google Places to find points of interest or resources such as dealership locations. At the 2012 Los Angeles Auto Show, Kia announced that UVO would also incorporate "geo-fencing," or the ability to draw zones on a map and receive alerts when your car goes there. This would allow parents, for example, to receive a text-message alert if their teen were to drive somewhere they weren't supposed to.
Other UVO features include hands-free phone and music system control; voice-activated onboard navigation control; emergency and roadside services connection; vehicle diagnostics and maintenance schedules and parked-car locator.
The new app features initially will be available only on the iPhone, though Kia intends to add other compatible devices later this year.
Related
Kia's UVO Texts When Teens Go Astray
2014 Kia Sorento at the 2012 L.A. Auto Show
More Kia News on Cars.com