2014 Mercedes-Benz E63 AMG Video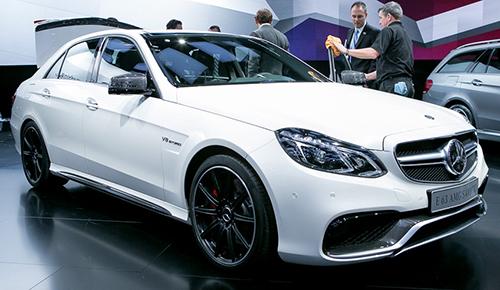 Mercedes-Benz's redesigned 2014 E-Class lineup comprises a coupe, convertible, wagon and sedan, but it's the absurdly quick E63 AMG that gets Cars.com reviewer Kelsey Mays' pulse racing. The luxury sedan, bowing this week at the 2013 North American International Auto Show in Detroit, gets 550 horsepower from its twin-turbo 5.5-liter V-8, and paired with the automaker's new 4Matic all-wheel-drive system, that translates to a zero-to-60 time of 3.6 seconds.
More 2013 Detroit Auto Show Coverage
To knock a half-second off of the 2013 model's 4-second zero-to-60 time, speed enthusiasts will have to upgrade to the E63 AMG S-Model, which will make a Porsche 911-rivaling 3.5 seconds. While the average law-abiding citizen may consider that measure of power luxurious, Mays imagines an unconventional application for getting misbehaving children to sit still in the backseat during car trips.
Watch the video below.