Top 10 Best-Selling Cars of 2012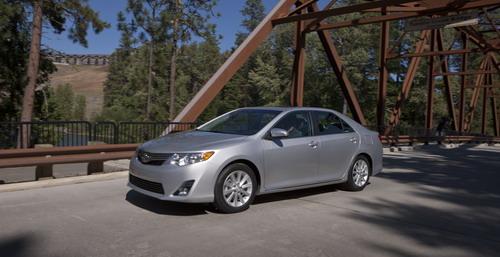 When the dust settles, 2012 will mark the third consecutive year of automotive sales gains, and the best sales year since 2007. (Remember back then? Here's a refresher.) Sales for the top seven automakers increased 12.9%, suggesting new-car sales will end in the mid-14 million range. That would be the third year in a row of sales gains, with totals up some 40% over a recession-ravaged 2008. It's the best sales year since 2007, but it still falls below sales totals through much of the 2000s.
Which cars fared best? The top sellers for 2012 include a lot of regulars, with six of the 10 cars redesigned for 2012 or 2013. The Ford Fusion and Chevrolet Cruze, both on this list a year ago, are gone; both had a relatively flat sales year.
Check out the list below.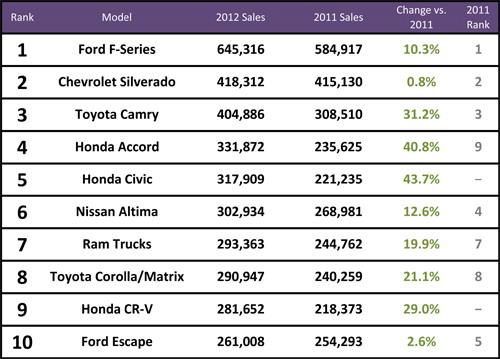 Automakers and analysts are bullish on 2013. GM sales chief Kurt McNeil expects 15 to 15.5 million new-car sales; CNW Marketing Research says 16 million is possible "if all pieces fall into place." Of course, analysts also expected strong numbers in early 2011 — before natural disasters in Asia derailed production. So, knock on some dashboard wood, or fake woodgrain, and we'll see what 2013 brings.
Related
Top 10 Best-Selling Cars: December 2012
U.S. Auto Sales Propelled the Economy in 2012
More Automotive News