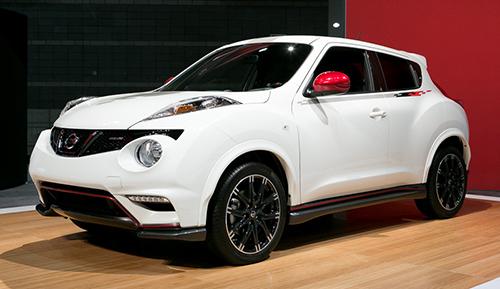 The latest vehicle to join Nissan's motorsports-inspired lineup, the 2013 Nissan Juke NISMO, debuted today at the 2013 Chicago Auto Show, boasting not only the badge's race-centric style but a little something extra under the hood to match. This more menacing compact crossover toughens up its image with LED-accented fog lights, smoked headlights and red pinstriping with matching red side mirrors; that's in addition to lower bumpers in front and back, wider wings and side skirts, a unique grille, a new tailgate spoiler and NISMO badges.
More 2013 Chicago Auto Show Coverage
The new Juke NISMO's sporty appearance is complemented by a reported 100 performance modifications, including a turbocharged 1.6-liter four-cylinder boosted for 197 horsepower. Check out the gallery below.