GM Vehicles to Have 4G Wireless in 2014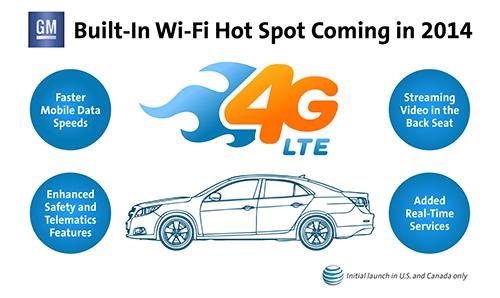 General Motors vehicle owners will enjoy greater in-car connectivity starting next year when the automaker rolls out its first wave of cars and trucks equipped with 4G LTE mobile broadband delivered through AT&T. The embedded technology will first be offered on most model-year 2015 Chevrolet, Buick, GMC and Cadillac vehicles available in the U.S. in 2014, according to GM.
"With mobile data speeds up to 10 times faster than 3G technologies, increased responsiveness, and the ability to support simultaneous voice and data connections, a built-in 4G LTE connection will enable advances in a wide range of in-vehicle communications and entertainment capabilities," the automaker said in a statement.
According to GM, specific benefits of in-car 4G include Wi-Fi hot spots, streaming video in the backseat, real-time traffic and navigation updates, and faster application downloads. The 4G LTE structure is integrated into the vehicle's electrical system and includes an external antenna to maximize coverage and connectivity. A smartphone will not be necessary for connected services, GM stated.
Related

GM's New Framework Could Add Apps Galore
Audi Puts 4G Wireless Into Cars
More General Motors News on Cars.com