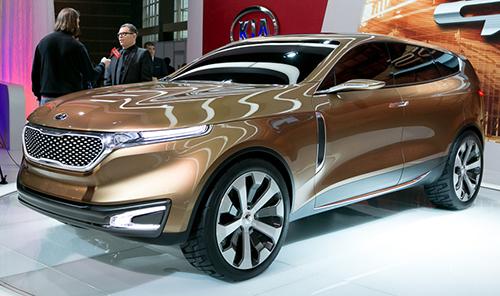 Using descriptive terms like "really weird" and "kind of cool," Cars.com reviewer Kelsey Mays took an unusual interest in the Kia Cross GT concept. Apart from oddball features like squinty wraparound headlights, hexagonal roof portals and felt-wool interior trim, the Cross GT demands our attention due to its likelihood of becoming the three-row Kia Sorento's larger, more muscular crossover cousin.
More 2013 Chicago Auto Show Coverage
The all-wheel-drive concept's powertrain uses a plug-in hybrid V-6 paired with an eight-speed automatic transmission, said to have a 20-mile all-electric range. Cross GT's debut sure was flashy, but whether those ambitious mileage claims or any of its fantastic features can translate to production remains to be seen. Check out the video below and see what you think.