2013 Chicago Auto Show Winners and Losers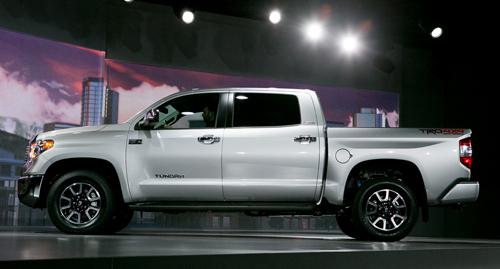 The Chicago Auto Show is traditionally big on floor space and short on new product debuts, and the 2013 edition is no different with just a handful of all-new production and concept cars making their premieres. Editors Mike Hanley, Aaron Bragman, David Thomas and Joe Bruzek crisscrossed the expansive show floor in search of the hits and misses.
Mike Hanley: Winner
It would have been nice to see some frame or powertrain improvements, but the styling changes nicely update the truck. The taller hood makes for a bold front end, and the stamped badge on the tailgate is something you'd typically see on a concept truck. On the show floor, the changes work. Whether it stands a chance in the real world with updated domestic competitors is another thing.
Aaron Bragman: Loser
Lots of us thought that the new 2014 Chevy Silverado and GMC Sierra updates were tepid, but this makes GM's changes look revolutionary. Two elements one can point to — the new grille and the new interior, and neither one looks good. The new headlights and body-colored grille make the Tundra look like a bigger Honda Ridgeline, which is not a positive change. The interior is practically a direct rip-off of the current Ford F-150, and with no changes to the structure or powertrain (a five-speed automatic transmission? Still?), one wonders why Toyota even bothered to change anything.
David Thomas: Winner
I like the updates to the Tundra because it maintains a modern look versus the traditional styling of the domestic trucks on the market. The Tundra is what you think a truck in 2013 should look like. The different treatments to the grille are interesting, too, and everyone seemed to love the stamped-in name on the tailgate. Inside may be a "ripoff," but it is well-executed.
Joe Bruzek: Loser
Is Toyota giving up on the Tundra? It looks that way with hardly significant styling improvements and rip-off of the F-150's interior styling plus no mechanical changes to the truck's capabilities. The Tundra's old interior at least differentiated itself from other pickups with a unique, clean and swoopy design instead of the blocky industrial look it now uses.
MH: Loser
The Cruze Diesel's biggest problem is it doesn't promise significantly better fuel economy than certain versions of the Cruze already offer that could help justify its hefty price premium and need for costly diesel fuel. I'm all for automakers bringing more diesel-powered cars to the U.S., but I suspect the math won't make sense for a lot of car shoppers.
AB: Loser
What a letdown. While it seemingly goes toe-to-toe with the Volkswagen Jetta TDI in the fuel-economy department, it doesn't improve at all from Chevy's own Cruze Eco model, and it costs nearly $4,000 more and is a half-second slower to 60 mph. Hopefully actual Cruze Diesel owner mileage will be better, as diesel models tend to overperform in highway mileage from their EPA ratings, but we had expected significantly better fuel economy from this model.
DT: Loser
I want more diesel cars in the U.S. Every TDI Volkswagen makes is fun to drive and delivers great mileage with the generally more expensive fuel. I think of it as getting a performance car that would require premium gas prices, but you get economy-car mileage. The Cruze doesn't look to deliver much on either the performance or mileage fronts, at least enough to offset the cost. I'm also not sure Chevy has the cool-diesel cache VW does.
JB: Loser
I agree with everyone's sentiments above. I can't remember any diesel we've tested that didn't match or exceed its EPA ratings in the real world, but most diesels already offer a significant fuel-economy advantage over the gas counterparts.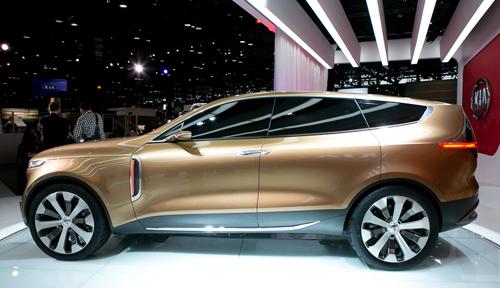 MH: Winner
I can't see the sleek, low-slung shape of the Cross GT surviving in any future production full-size crossover, but the design worked sitting on the Kia stage. The front of the concept offers a muscular interpretation of Kia's current winged grille while the tail foregoes the swept-forward roofline common of crossovers for an upright look. It's a distinctive design.
AB: Winner
This is perhaps the best-looking car unveiled in Chicago, with low, swoopy styling that's just fantastic. Looking at the profile, one notices cut lines and details that start at one point on the body and incorporate elements like lights, windows and more in ways that are cohesive and show serious attention to detail. If Kia does make a full-size CUV and makes it look half as good as this, it'll have done well.
DT: Winner
Kia keeps getting design right even in its concepts. I disagree with Mike on this look not making it to production, though. I think the front end is nearly in-line with what Kia does with its sedans, so why not a large crossover? If it could make the back a little more traditional, I could see this sitting in a driveway on my suburban street.
JB: Winner
I can absolutely imagine the Kia Cross GT concept's overall styling as a production vehicle and wouldn't be surprised if its looks actually improve with real production headlights and more profile definition. My eyes see a little of the attractive, sporty Infiniti FX in the long nose and front styling, or maybe it's the copper color that every FX I see on the road seems to be painted.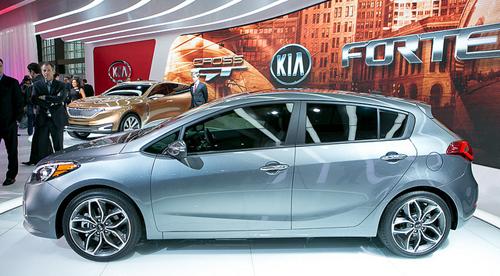 MH: Winner
Hatchback design is getting better and better, and the Forte 5-Door is just the latest example. It has the right proportions and the forward-swept liftgate goes a long way toward enhancing its profile appearance. It's yet another hatchback that proves style and versatility aren't mutually exclusive.
AB: Winner
This was a surprise — a genuinely attractive five-door hatchback with a powerful turbo motor, six-speed manual transmission, and some segment-exclusive features like heated seats front and rear. Add a sport suspension and high-intensity-discharge headlamps and we start to wonder if Kia's built itself a Volkswagen GTI-killer.
DT: Winner
This was probably my favorite car of the show, and it might be the best-looking compact hatchback on the market. From the front and side, it looks like a very good design; from the back it looks amazing. Team these looks with the promising powertrain and I can't wait to drive one. I also want to see how it looks in other colors ... like black.
JB: Winner
After being thoroughly impressed driving the 2014 Forte sedan, my eyes widened and ears perked up after hearing Kia planned to stuff the turbocharged engine from Hyundai's Veloster Turbo in its four-door hatchback version of the Forte. The hatchback is sleek, attractive and downright mean looking in the turbo trim level with blackened grille and headlights, plus LED running lights.
Kia Optima Hybrid Superman Super Man Edition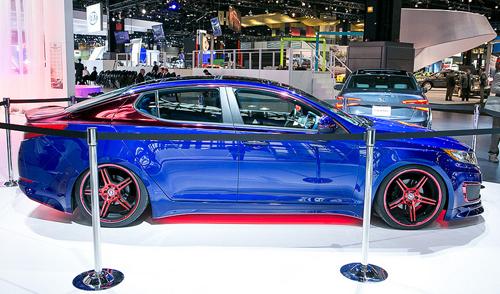 MH: Loser
It's hard to envision the Man of Steel ever needing a car — would you if you could fly? — but if for some reason he did it wouldn't be an Optima Hybrid; I picture him as a Lamborghini Aventador kind of man. I do, however, like the electric-blue paint; that's something that makes sense on this car.
AB: Loser
I have a hard time envisioning any superheroes making Korean family cars their ride of choice, but Kia's tie-up with DC Entertainment and the We Can Be Heroes charity, which works to help end hunger in Africa, is certainly noble. For the comic book fans, Green Lantern's Soul, Aquaman's Rio, and Batman's Optima may seem pretty sweet. For auto enthusiasts gazing at the Superman Optima Hybrid's polished red metal and metallic blue paint job, however, it just looks silly.
DT: Loser
Building off Aaron's idea, I could definitely see a Clark Kent Optima selling well. Maybe a dark brown paint to mimic a suit, with black rimmed wheels instead of glasses? Comes with custom luggage to stash your clothes when dashing off to save a damsel in distress ... OK, you caught me. I'm trying anything to not think about the Superman Optima Hybrid's horridness.
JB: Loser
More like super lame. Sculpted fender flares and mechanical graphics are the most interesting part of this car as they intertwine to hide where the graphics end and body modifications begin. At least this car exists to increase awareness of a cause.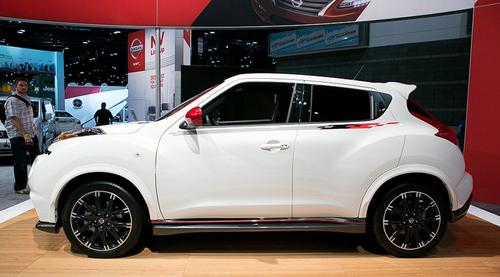 MH: Loser
The Juke has a busy design to begin with and the additional NISMO cues give the crossover a scattershot look. A vehicle bearing the NISMO name deserves more than a 9-horsepower bump in engine output, too. I'm underwhelmed.
AB: Winner
Look, the Juke is just plain ugly. This is not news — it looks like an angry Pokemon. But the thing about the Juke is that it's also an absolute riot to drive, especially in all-wheel drive, turbocharged form. The NISMO treatment does nothing to make the Juke any prettier, but it does throw quite a lot of enhancements at the tiny toon car to make it even more fun to drive. Great seats, fat Alcantara-wrapped steering wheel, more power, an even sportier suspension tune — as long as you don't care what you look like, this could be a lot of fun. The only worry: a loaded Juke already hits $30,000; how much is this one going to cost?
DT: Winner
I actually think the NISMO treatment takes an over-the-top design over the cliff ... in a good way. Sure, it has one too many sets of headlights — now numbering three — but the additions of that red styling line and tasteful graphics seal the deal on making this an extreme oddity in the market.
JB: Winner
I don't think anyone has ever "come around" to liking the Juke's appearance. The NISMO version is easier on the eyes with a lower stance, big wheels and red highlights in the right places that take away the funky SUV's toy look. What truly sold me is the interior with super comfortable, highly bolstered suede sports seats and a steering wheel partially covered in Alcantara simulated suede.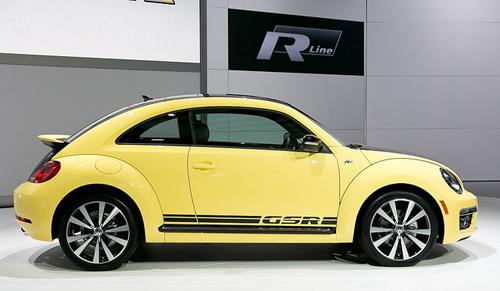 MH: Winner
It might be too much for some, but the GSR's yellow-and-black paint scheme works surprisingly well on the hatchback Beetle. I would have preferred to see a unique powertrain to go along with the distinctive appearance, but I like the idea of resurrecting the GSR name from the Beetle's past.
AB: Loser
I like the new Beetle's overall more aggressive look; it reminds me of a classic Porsche 356. But this GSR sticker scheme of a "classic" Beetle that was never actually sold in the U.S. just doesn't look good. The yellow stitching on the black leather interior is nice, but I'd rather have had it on an all-yellow car.
DT: Loser
Message to automakers, yellow stitching on black leather is really smashing. While we're chatting, don't ever paint a car like Volkswagen did the Beetle GSR. It's ghastly. I want to like the curvaceous spoiler, which is pretty awesome, but the paint job is distracting me. I'm very pleased this will be sold in limited numbers.
JB: Loser
I can't say I've ever seen any car in black and yellow and thought, "Wow, that looks awesome." The GSR's new spoiler is sweet, but I would have liked to see more differentiation between the Beetle R-Line with unique GSR wheels - ones that wouldn't be painted black and yellow.