Clek Foonf Makes Extra Room in the Car, but Costs $470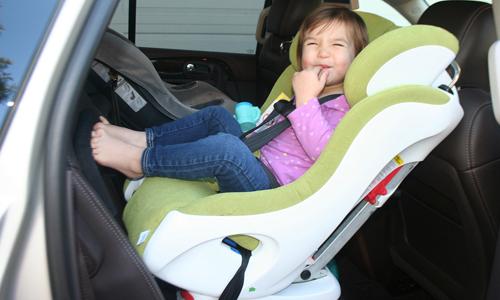 When Baby No. 3 is on the way, most parents find themselves in the market for a larger vehicle. The addition of that third child-safety seat normally means buh-bye sedan and ugh-hello minivan (or three-row SUV).
That is no longer the case, thanks to some new child-safety seats. The Foonf by Clek is one of them. It's a convertible car seat that's making some big claims. One is its narrow width of only 17 inches makes installing three child-safety seats across in a smaller car's backseat not entirely out of the question.
While the Foonf's suggested retail price of $470 may have some crossing it off their list right away, its safety features might cause them to reconsider. Clek took some cues from the automotive industry and designed crumplelike zones into the Foonf.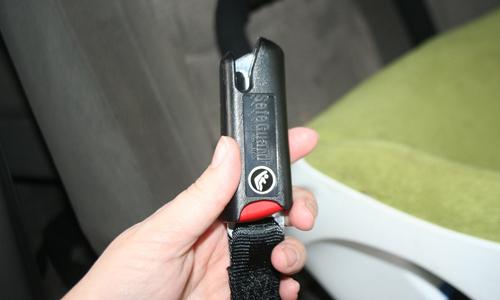 It's also designed with extended use in mind, especially in the rear-facing position. The federal government
recommends
that children ride in rear-facing child-safety seats until age 2, but the Foonf takes it even further. A child can sit in a rear-facing Foonf until he or she is 43 inches tall, 50 pounds or 4 years old. In the forward-facing position, the Foonf can accommodate a child up to 49 inches tall and 65 pounds.
After hearing about the Foonf, I was itching to get my hands on one to test with my girls. Of my three daughters, Naomi, age 4, is by far the pickiest. Even though the Foonf has modern lines and there isn't a flower/rainbow/princess to be found, she still approved of its looks but couldn't ride in it. While she is only 45 pounds, she's too old to use it.
My 2-year-old daughter, Ellis, would ride in a wooden crate as long as she could buckle herself up. She was the first of my kids to ride in the rear-facing Foonf, and she was not a fan. Though she's well within the height and weight limits for the rear-facing safety seat, she had no legroom, which is a concern voiced by many parents since the National Highway Traffic Safety Administration now recommends children remain rear-facing until age 2.
Ellis had to dangle her legs over the rear-facing Foonf's sides or sit cross legged. Another problem was the seat's crotch strap was too short, pushing the buckles into her thighs.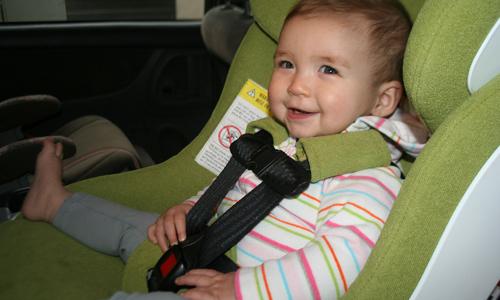 My third daughter, Mei, is 7 months old. Clek recommends that the baby be able to sit upright independently before using the Foonf, so she just made the cutoff. Of my two testers, she appeared to be the most comfortable in this rear-facing seat.
After I got over the shock of how heavy the Foonf is, it was easy to install. At more than 36 pounds, the Foonf weighs more than double what the average convertible car seat weighs. We have the Foonf's steel and magnesium substructure to thank for that. If you rarely switch your child's safety seat from car to car then the weight won't be an issue. However, if you're like me and often play musical chairs with your safety seats, it's something to consider.
There is a lot to like about the Foonf, and I am looking forward to using it in my future car reviews. I'm hoping its slim profile helps my family of five squeeze into that sporty sedan that we'd otherwise be saving for date night.
Related
NHTSA Recommends Kids Stay in Car Seats, Boosters Longer
How to Live With NHTSA's New Child-Safety Seat Guidelines
Car Seat Checks