Ford Adds Spotify to Sync Suite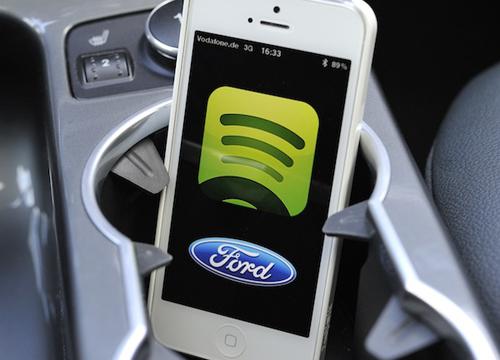 Ford drivers can already use Sync and their smartphones to stream music from Pandora, and now Spotify is adding some competition. The on-demand music streaming company is partnering with Ford to offer customers hands-free access to its catalog of more than 20 million songs. The service will be available in the nearly 1 million Ford vehicles already equipped with the Sync AppLink system, which enables drivers to control a smartphone via voice prompts.
After the app is running on a Sync-connected iPhone, drivers can use voice commands to play a track, star or unstar a track, select a playlist, add a track to a playlist, find similar music and turn shuffle and repeat on and off. Drivers can also use the car's controls to play a track, pause a track, skip a track and use the preset numbers to program an artist, album or playlist.
There are a few big catches, however. As of now, an iPhone is required, and according to Spotify spokesman Graham James, there's no firm date for when it'll be compatible with Android smartphones. Also, the service is only available to Spotify Premium account holders, which requires a monthly $9.99 subscription.
Ford is the first automaker that Spotify has collaborated with, and James told us that the company has plans to expand. "We want to be wherever our users want us to be," he said.
Related
Ford Sync Adds Smartphone App Control
More Ford News on Cars.com
More Automotive News on Cars.com