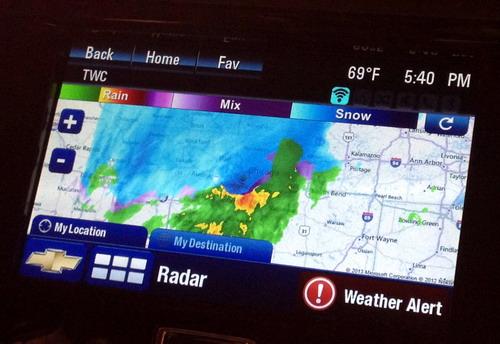 The weather map displayed on a small screen showed what anyone could gather from looking outside. I sat inside a 2013 Chevrolet Malibu, tucked into a brick-lined gallery in Chicago during a recent auto show. The digital map cast most of northeast Illinois with a blue overlay — snow. Outside the gallery, the white stuff came down thick.
Sam Johnson, lead engineer for Chevrolet's MyLink multimedia system, had fired up The Weather Channel's app in the Malibu's center display screen. It works similarly to the smartphone app. He also had online radio aggregators iHeartRadio, TuneIn and Slacker on hand. And that was just the tip of the iceberg.
Through GM's new system, dozens of car-specific apps could be available through the automaker's touch-screen systems: Chevrolet's MyLink, Buick and GMC's IntelliLink and Cadillac's CUE. GM announced the new framework at January's Consumer Electronics Show. I saw it in action at this month's Chicago Auto Show. It's similar to the Car Connectivity Consortium's free-form MirrorLink initiative, of which GM remains a member. But here, The General gives the marching orders.
The framework allows outside developers to work through a GM-sanctioned portal to develop automotive apps, which will debut in various 2014 cars. Owners can choose from a catalog of vehicle-centric apps that could someday tap into vehicle data, GM infotainment strategy manager Junior Barrett told me. There could be an app to help schedule maintenance appointments, master a racetrack or monitor driving habits to reduce insurance premiums.
"The idea is that any system that is capable, we're going to make that available to our customers," Johnson said.
GM's infotainment chief Phil Abram promised the apps would be "unique to our cars and very different from what people use today on their smartphones or tablets." It's a shift from GM's current OnStar-enabled apps like Pandora and Stitcher.
Or is it? IHS analyst Mark Boyadjis was skeptical that many of the apps would be all that car-centric.
"There are some apps that might take into account velocity, or might take into account your location or your historical driving," Boyadjis said. "Those apps you will need to have a little deeper integration. But The Weather Channel, Facebook, internet radio streams — those can be leveraged across different screens."
Still, Boyadjis said the whole app game represents serious innovation.
"You buy a Cadillac ATS today, it will have Pandora and Stitcher, [but] in two years it will have a different selection of apps," Boyadjis said. "Automakers want to future-proof their hardware."
Limitations exist, however.
Will developers bite?
GM says it will eventually roll the framework into its global brands, but the automaker sold 9.29 million cars globally in 2012 — a small figure if you're an app developer. Apple sold 130 million iPhones worldwide that year; smartphone sales at Samsung, meanwhile, totaled 206 million. GM infotainment manager Scott Fosgard conceded the point: "GM doesn't produce enough [sales] volume" to attract developers on its own.
Then there's the hardware issue. Will GM's apps start lagging or crashing as your car ages and new apps outpace the hardware to run them? Anyone with an old smartphone knows forced obsolescence all too well. But Barrett likens the dashboard screen to a mere display. All the real processing occurs on cloud-based servers, so the speed depends only on your data connection. (He's not alone. In 2011, Toyota also tied latency to your smartphone for its Entune system.)
Boyadjis agrees. Dashboard-screen resolutions will become dated — though he said it isn't as obvious on a 10-inch display as, say, an HD television — but the off-board processing should keep the systems moving fast enough.
"Increasingly every single automaker is moving to a software-based platform so that they can improve things," he said. "You have these cars that people want to have for more than a year or two, but their consumer electronics they're going to ditch in two years. So you've got to keep up with that."
Related
Smartphone on Your Dashboard? Don't Count On It
Toyota's Entune System: Up Close
More Automotive News