Lexus' Coin Catcher: A Simple Convenience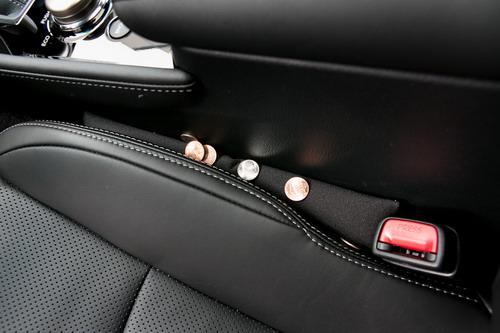 Why do you buy a $50,000 luxury sedan? Maybe it's the gutsy engine, high-tech stereo or enough leather to garner a PETA protest. Take the 2013 Lexus GS. Its $48,145 starting price gets you heated leather seats with eight-way power adjusters, stitched dashboard trim, keyless access with push-button start, a moonroof and much more.
But sometimes it's the little things that count. Case in point: a fabric liner that sits between the front seats and the center console. It's a masterful convenience. It saves you from losing quarters, dimes and nickels at every toll booth; it halts you from cursing the iPhone gods every time yours falls under the seat. It prevents a horde of fast-food crumbs and ketchup packets from assailing the carpet.
OK, so you can buy a $20 aftermarket retrofit that does the same thing. You could also fit a neoprene strip — or a stuffed sock — in the gap. But few cars come that way from the factory. Our GS is hardly the first Lexus to sport the feature: Motor Trend sung its praises in a 2004 LS 430. We asked two Lexus spokespeople when and how the feature originated; neither one could tell us.
If every press car we drove had the feature, we'd save 60, maybe 75 cents a week in lost change. Being journalists, that's serious money.
Related
Drop Stop Prevents Items From Falling Under Your Seat
How Often Should You Replace Wiper Blades?
More Automotive News