Lincoln Expects 2013 MKZ Supply to Hit Full Speed by April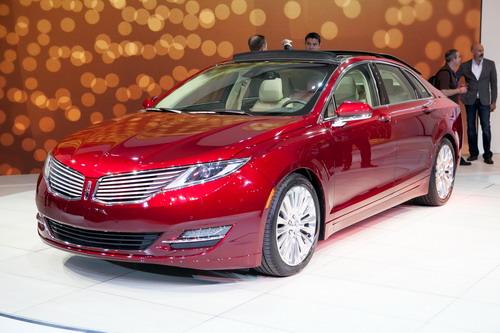 Looking for Lincoln's redesigned 2013 MKZ or MKZ Hybrid that you saw advertised during the Super Bowl? You might have to wait a while. Cars.com national inventory has just 781 new 2013 MKZs in stock. That's a drought compared to the rival Acura TL and Lexus ES, which each have more than 6,000 new 2013 sedans on Cars.com.
Blame a slow ramp up for the redesigned car, which went on sale late last year. The Detroit News reports Lincoln dealers should have enough cars to sell by April.
Those dealers sold just 453 MKZs in January. That's down 73% from January 2012 when the midsize luxury sedan was Lincoln's best-selling model. The plunge hobbled Lincoln sales to a 32-year low, notes Ward's Auto via Bloomberg News. The torpid sales pace came because Lincoln heightened its quality inspections, Ford sales chief Ken Czubay told Bloomberg on Feb. 1.
Lincoln hopes to shore up inventory by first quarter's end. For the time being, sales gains are "not the priority," marketing head Jim Farley told dealers on Sunday at the National Automobile Dealers Association convention in Orlando, Fla. "We're building a brand. Building a brand is all about putting a foundation in, and that's why we're taking so much time to get the quality right."
Ford is spending $1 billion to turn its ailing luxury division around, and it can ill afford the recalls that tarnished the redesigned Ford Fusion — a car that shares components with the MKZ — or the Ford Escape. Besides the MKZ, Lincoln expects three more all-new cars over the next four years. One of them will be the Escape-based MKC.
Already, the situation appears to be on the mend. Lincoln dealers began January with just 29 days of MKZ inventory, which is well under the industry's 58-day average supply, according to Automotive News. In February, MKZ stock had increased to 143 days.
It will need them. Ford's Czubay said the Mexico-built MKZ was the most pre-ordered car in Lincoln history, Bloomberg News reports. Time will tell if sales follow suit.
Related
2013 Ford Fusion, Lincoln MKZ, Mercedes-Benz C-Class Join NHTSA's Five-Star Club
Lincoln MKC Concept at the 2013 Detroit Auto Show
More Automotive News