Nissan to Develop 2014 GT-R NISMO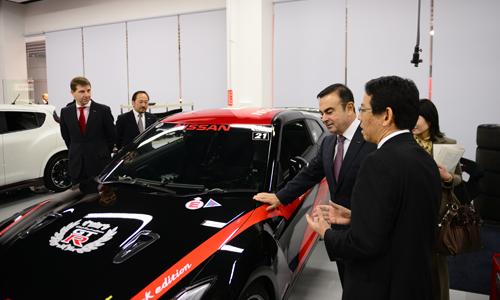 Nissan is expanding its performance arm: The automaker announced today that it plans to offer a NISMO version of the 2014 GT-R supercar. This is the third vehicle to launch under the NISMO brand; it follows the revised 370Z and new Juke NISMO versions that were unveiled at the 2013 Chicago Auto Show.
Currently, the NISMO version of the 2013 370Z is expensive, adding $5,200 to the price of the Touring version of the coupe, but according to Nissan, that will change during the next year. The automaker plans to make the NISMO brand more affordable and accessible.
"For many would-be NISMO customers, the only way to experience a NISMO performance car has been through a game like Sony's Gran Turismo series. Now we can bring them into the family of Nissan owners with exciting, real NISMO cars created by a dedicated and experienced team that is fully linked to the digital world and well aware of what these new customers are looking for in a performance road car." Simon Sproule, Nissan's corporate vice president for marketing and communications, said in a statement.
Although the automaker confirmed that the 2014 GT-R is the next model to get the NISMO treatment, details are slim. Nissan has only announced that it will be available in dealerships next year. "We know that enthusiasts around the world will be itching to know more about the forthcoming GT-R NISMO. It's too early to share any details yet, but fans can be certain we'll be applying all of our motorsport expertise to creating a GT-R NISMO worthy of the name," NISMO President Shoichi Miyatani said in a statement.
As for the other recently introduced NISMO models, Nissan says the Juke gets around 100 performance modifications compared with the regular version and the 370Z has some exterior body modifications and interior trim additions. The 2013 Nissan Juke NISMO will go on sale this summer and the 2014 370Z NISMO will be in dealerships this spring. No word yet on pricing for either of these cars.
Related
2013 Nissan Juke NISMO at the 2013 Chicago Auto Show
2014 Nissan 370Z NISMO: Photo Gallery
More Nissan News on Cars.com