How The Automakers Scored in Super Bowl XLVII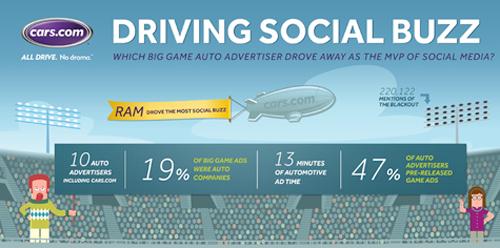 Wondering which of the automakers that advertised in Super Bowl XLVII got the biggest bang from their buck, whether it was from social buzz (people tweeting or posting on Facebook) or through driving consumers to Cars.com to search for their cars and trucks?
Well, we've got answers for you. The winner on the buzz front was Ram, whose "Farmer" ad featuring the voice of the late radio great Paul Harvey drew lots of accolades. As for driving consumer action, Toyota took home the trophy. Check out our infographic below for all the details. Click on it for a larger version.
Related
Grading Super Bowl XLVII's Car Commercials
Watch Cars.com's Super Bowl XLVll Commercial
Research SUVS