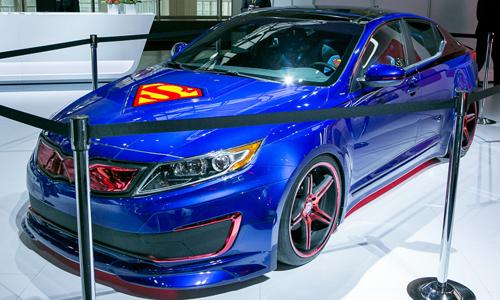 The Superman-inspired Kia Optima Hybrid, revealed today at the 2013 Chicago Auto Show, might have been the Man of Steel's sweet-16 present from daddy Jor-El if only Krypton hadn't been destroyed. The Supes-style sedan is instantly recognizable, adorned in the hero's signature blue with red accents on the grille, wheels, rear bumper and elsewhere, with glowing red undercar lighting and "heat vision" headlights.
More 2013 Chicago Auto Show Coverage
To further guard against mistaken identity, the Last Son of Krypton's signature S shield is displayed in multiple places, most prominently on the hood and seats, and a shadowy black image of him is incorporated into the rear windshield. Despite all their similarities, Superman gets his power from Earth's sun while the Kia Optima Hybrid runs on gas and electric — and cannot fly. The car is the sixth in a planned eight-car Justice League series born of a partnership between Kia and DC Entertainment. Check out the gallery below.