2013 Geneva International Motor Show: FT-86 Open Concept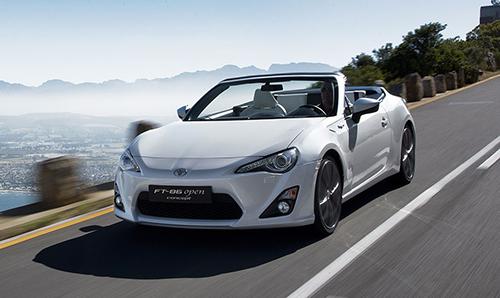 Looks like: Yet another FT-86 concept
Defining characteristics: It's a convertible version of the Scion FR-S
Ridiculous features: Aside from the Milan-inspired interior, none; it looks production-ready
Chances of being mass-produced: A Scion FR-S convertible seems likely
Toyota will unveil its third FT-86 concept in four years to the world this month at the 2013 Geneva International Motor Show: the FT-86 Open concept. The compact sports car is the convertible version of the automaker's Scion FR-S, as it's known in the U.S., or GT86 overseas.
Built on the same platform as the Scion FR-S, the FT-86 Open concept shares the rear-wheel-drive Scion's 2.0-liter boxer four-cylinder engine, which is paired with a six-speed manual or automatic transmission and good for 200 horsepower. Toyota says it will gauge customer reaction to the concept at the Geneva show for a possible launch of a production-version convertible.
"The FT-86 Open concept is designed to combine all the lively, accessible performance and highly engaging, readily exploitable dynamic abilities of the GT86 with the even greater levels of driving pleasure derived from open-topped motoring," the automaker said in a statement.
The concept shares the GT86's dimensions, adding a multilayered fabric roof that folds behind the fixed rear seats of the 2+2 seating format with a glass rear screen. Toyota says the stowed top will have minimal impact on cargo space. The white exterior with navy blue fabric roof and carpets finished in a "golden yellow hue" are evocative of the ambiance of Milan, Italy, a world leader in fashion design, the automaker said. Toyota said it is still making engineering evaluations to ensure any changes to the car resulting from the convertible top are accounted for in terms of vehicle weight, balance, aerodynamics and rigidity.
The first FT-86 concept that debuted in 2009 was a marriage of Toyota design and Subaru engine technology, and was an ostensibly production-ready compact sports car. But another, even more production-ready concept, the FT-86 II, appeared in Geneva in 2011 before resulting in the coupe on which the FT-86 Open concept is based. Like its predecessors, the convertible concept appears all but ready to hit the assembly line. Check out the photo gallery below.
Related
Toyota FT-86 Sports Car Concept
Toyota FT-86 II Concept at the 2011 Geneva Motor Show
More Geneva Motor Show News on Cars.com