2013 New York Auto Show, Day 1: What You Missed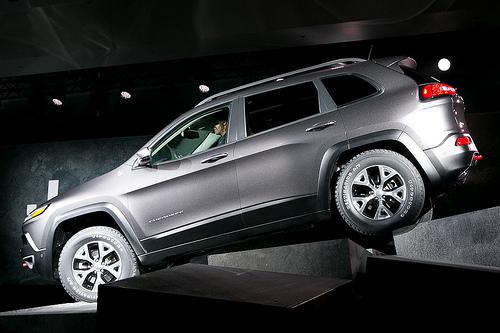 We're live from the Big Apple and numerous new and redesigned vehicles have made their debuts at the 2013 New York International Auto Show.
Today was a busy day on the show floor where manufacturers took the wraps off their upcoming 2013, 2014 and even 2015 models. Cadillac showed us a refreshed 2014 CTS, Audi gave us a sneak peek at its new S3 and A3 sedans, Mercedes-Benz revealed the electric B-Class and Honda even introduced an industry-first in-vehicle vacuum for its updated Honda Odyssey.
Our editors were able to get up close with important redesigns like the 2014 Toyota Highlander, Kia's Forte Koup, the new Chevrolet Camaro Z/28 and Jeep's unique-looking Cherokee.
Check out our coverage of some of the new and exciting models that debuted today below:
2014 Kia Soul: Photo Gallery
2014 Land Rover Range Rover Sport: Up Close
Diesel Engine Coming to BMW 5 Series Lineup
2014 Toyota Highlander: Up Close
2015 Volkswagen Golf and GTI at the 2013 New York Auto Show
Toyota to Build 20 New Hybrids Globally by End of 2015
2014 Mercedes-Benz B-Class Electric Drive at the 2013 New York Auto Show
2014 Kia Optima at the 2013 New York Auto Show
2014 Acura MDX: Photo Gallery
2014 Cadillac CTS: Up Close
2014 Jeep Cherokee at the 2013 New York Auto Show
Could In-Car Messes Be a Thing of the Past With 2014 Honda Odyssey's Vacuum?
2014 Nissan Pathfinder Hybrid at the 2013 New York Auto Show
2014 Kia Forte Koup: Photo Gallery
2014 Acura MDX at the 2013 New York Auto Show
2014 Mercedes-Benz CLA 45 AMG: Up Close
2014 Chevrolet Camaro Z/28 at the 2013 New York Auto Show
2014 Cadillac CTS Video
2015 Volkswagen GTI: Photo Gallery
2015 Audi S3 Photo Gallery
2014 Jaguar XKR-S GT at the 2013 New York Auto Show
2014 Land Rover Range Rover Sport at the 2013 New York Auto Show
Toyota Executive: New Scion tC to Draw on FR-S Cues
2014 Hyundai Equus at the 2013 New York Auto Show
2014 Buick Regal, Regal GS at the 2013 New York Auto Show
2014 Infiniti Q50 Sport Sedan Priced From $37,355, Includes Free iPad Mini
2014 Buick LaCrosse at the 2013 New York Auto Show
2014 Chevrolet Camaro: What's Changed
2014 BMW 3 Series Gran Turismo: Up Close
2014 Toyota Highlander Video
2014 Jaguar XJR at the 2013 New York Auto Show