2014 Acura MDX at the 2013 New York Auto Show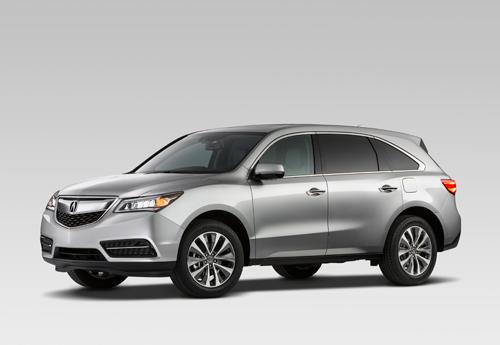 Competes with: Infiniti JX35, Lexus GX, BMW X5
Looks like: The 2013 Acura MDX
Drivetrain: 3.5-liter V-6 engine with six-speed automatic transmission, front or all-wheel drive
Hits dealerships: Summer 2013
It may not look like a radical departure from the current MDX, but the 2014 version is entirely new. It has a new chassis, engine, interior, features and improved mileage.
Typically, you wouldn't look under the hood of a crossover first, but the new 3.5-liter V-6 is noteworthy. The direct-injected V-6 also sports cylinder deactivation that helps with fuel economy. Acura says the EPA rating for all-wheel-drive models — still called Super Handling All-Wheel Drive, or SH-AWD — is 18/27 mpg city/highway and 21 mpg combined. That's a 16% improvement over the combined rating of the 2013 MDX, which is only available with SH-AWD.
More 2013 New York Auto Show Coverage
Front-wheel-drive versions of the 2014 are rated at 20/28 mpg city/highway and 23 mpg combined. That combined rating is roughly 10% better than Infiniti's front-wheel-drive JX35 — soon to be renamed QX60.
Power is down, though, from 300 horsepower in the outgoing 3.7-liter to 290 hp in the 3.5-liter. Torque is rated at 267 pounds-feet. Despite the lower numbers, the 2014 MDX is faster thanks to its shedding an impressive 275 pounds compared to the outgoing 2013.
There are also adjustable driving modes: Sport, Normal and Comfort that adjust steering, throttle and the all-wheel-drive system.
The 2014 is also bigger. It's 193.6 inches long — 2 inches longer than the 2013 — with a wheelbase of 111 inches, which is 2.7 inches more than the 2013. Interior dimensions weren't provided, but Acura says the 2014's step-in height is 2 inches lower and access to the third row is easier thanks to redesigned second-row seats. Acura says the second-row seats can slide forward and back with 6 inches of total adjustment. The seats also recline.
Cargo space is larger, though Acura did not reveal specific numbers at this time. It will have an under-floor storage area, too.
The MDX is also awash in technology features, and the center dash on all models is equipped with a small touch-screen with a larger display screen above it. That helps declutter both the center console of its many buttons as well as the steering wheel. Acura says it went from 41 buttons to nine. We've found a similar setup in the Honda Accord to be surprisingly user-friendly.
The MDX lineup also goes from five trims to four: MDX, MDX with Technology Package, MDX with Technology and Entertainment packages and the top MDX with Advance and Entertainment packages. Eighteen-inch alloy wheels are standard while Technology and Advance trims get 19-inch wheels.
Pricing will be announced closer to the car's on-sale date, but with the addition of front-wheel-drive models we expect prices to be slightly less than the current MDX's $44,175 base price with destination included. The front-wheel-drive Infiniti JX35 starts at $42,245, including destination.
Update: More images have been added below.