2014 Infiniti QX60 Hybrid at the 2013 New York Auto Show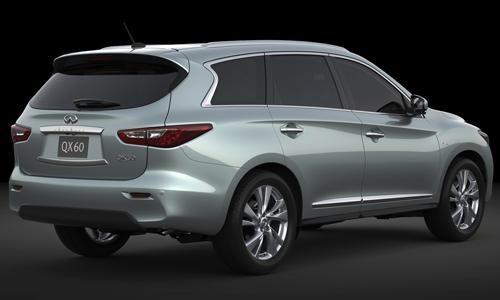 Competes with: Acura MDX, Buick Enclave, Volvo XC90
Looks like: An Infiniti JX35
Drivetrain: Supercharged 2.5-liter four-cylinder and lithium-ion battery pack paired with a continuously variable automatic transmission
Hits dealerships: Summer 2013
The Infiniti QX60 name may not sound familiar, but the crossover that bears it should jog your memory. It's the new-for-2013 JX35. For 2014, not only does the seven-passenger vehicle get the QX name change, but a hybrid model is joining the roster.
At the 2013 North American International Auto Show in Detroit, Nissan Executive Vice President Andy Palmer told Cars.com that every new Infiniti will offer a hybrid variant. The Q50 hybrid (formerly the G37) debuted at the show; up next is the QX60 — Infiniti's first hybrid crossover.
On the outside, the QX60 Hybrid looks like the JX35 — the big changes are under the hood. The front- or all-wheel-drive hybrid uses a new system Infiniti calls Direct Response Hybrid. It's a one-motor two-clutch setup that pairs a supercharged 2.5-liter four-cylinder engine with a 15 kw electric motor and a CVT. Infiniti puts total horsepower at around 250 hp and says the system offers power delivery similar to the regular version's 265-hp, 3.5-liter V-6.
Infiniti expects the QX60 Hybrid to deliver 26 mpg in combined city/highway driving. The 2013 JX35 gets 18/24/21 mpg city/highway/combined. The automaker claims the new hybrid should also offer just as much cargo space as the non-hybrid version thanks to a compact lithium-ion battery under the third-row seat.
The QX60 Hybrid will officially make its debut later this month at the 2013 New York International Auto Show and go on sale this summer. Infiniti hasn't released pricing, but did say the 2014 QX60 Hybrid will cost around $3,000 more than non-hybrid versions. The 2013 Infiniti JX35 currently starts at $42,245, including destination.
Related
Infiniti to Make Hybrid Version of Every Car
Is Nissan Planning an Infiniti JX Hybrid?
More Infiniti News on Cars.com