2014 Land Rover Range Rover Sport at the 2013 New York Auto Show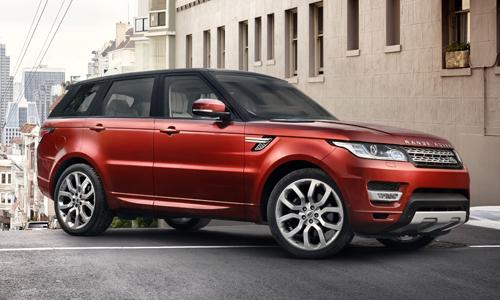 Competes with: Mercedes-Benz ML63 AMG, Porsche Cayenne, Jeep Grand Cherokee SRT
Looks like: Meaner and leaner with a heavy dose of Evoque-styling cues
Drivetrain: 340-hp, supercharged 3.0-liter V-6 or 510-hp, supercharged 5.0-liter V-8; eight-speed automatic transmission
Hits dealerships: TBD
Base MSRP: $63,495
North America is Land Rover's best market, and the New York area leads the continent for sales, so it's no surprise that the company used the 2013 New York International Auto Show for the global debut of the 2014 Land Rover Range Rover Sport. The name is still a mouthful to say, but it promises to be more than a handful to handle as well, with a decidedly sporty nature that's meant to slot between the bigger, more posh Range Rover and the smaller, entry-level Evoque.
More 2013 New York Auto Show Coverage
Outwardly, it looks as if someone has pasted the Evoque's signature elements (front and rear end, especially) over the old Range Rover Sport's silhouette. It works well, however, giving the new Sport a much more aggressive, sporty stance that should prove popular.
Inside, a full revision of the instrument panel makes the Range Rover Sport look even more opulent, with stitched leather covering the dashboard and an optional 12.3-inch fully electronic gauge cluster. A two-seat third row is now available for "occasional use," says Land Rover. It's got a power-folding function that drops it into the floor when not in use. A wide range of interior color choices are also available, with 11 color themes, four aluminum interior trim finishes, three wood veneers and three headliner colors.
Powertrains come in two varieties: a supercharged 3.0-liter V-6 making 340 horsepower and 332 pounds-feet of torque or a supercharged 5.0-liter V-8 producing 510 hp and 461 pounds-feet of torque, both mated to a standard eight-speed automatic transmission. All Range Rover Sports have four-wheel drive with a choice of two transfer cases - a single-speed Torsen or a two-speed locking differential with low range.
The new Range Rover Sport was developed alongside the larger Range Rover and uses a new architecture: an all-aluminum unibody that weighs considerably less than the outgoing model, resulting in weight savings of more than 800 pounds. You know how much quicker your car is with one occupant versus three? Imagine losing five passengers and what that will do for the car's performance. It means the V-6-powered 2014 model is 0.3 seconds faster to 60 mph than the 2013 V-8 model despite being down 35 horsepower from the 2013 version. The 2014 V-8 model is almost a full second quicker to 60 mph than the old model, thanks to the weight-loss program.
It may look like a street monster, but this Land Rover still needs to be able to perform off-road feats as well. The Terrain Response 2 system is included with a new function that allows the Range Rover Sport to detect what kind of terrain it's rolling over and automatically select the best mode to handle it: General, Grass/Gravel/Snow, Mud/Ruts, Sand or Rock Crawl. The truck uses a bevy of systems to aid its state-of-the-art four-wheel-drive system: hill descent control, Gradient Release Control, hill start assist, stability control, traction control and roll stability control.
All of this advanced technology does not come cheap. The new model starts at $63,495 including an $895 destination charge, for the V-6 SE and steps up to $68,495 for the V-6 HSE. You'll need $79,995 to get into a V-8 Supercharged model while the range-topping Autobiography trim starts at $93,295. Land Rover has not stated when the new model will go on sale, but we expect it to be sometime this year.