2014 Nissan Pathfinder Hybrid at the 2013 New York Auto Show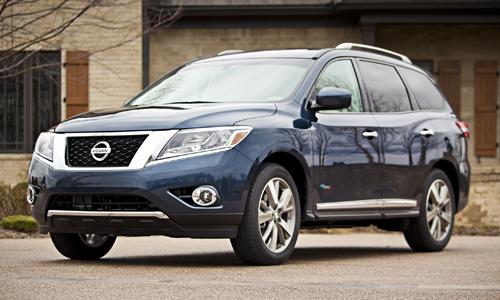 Competes with: Ford Explorer, Dodge Durango and Chevrolet Traverse
Looks like: A Pathfinder. Only a badge and LED taillights differentiate the hybrid version from the regular Pathfinder.
Drivetrain: Supercharged 2.5-liter gasoline engine and a 15-kW electric motor paired with a compact lithium-ion battery; continuously variable automatic transmission
Hits dealerships: Late summer
For model-year 2013, Nissan's Pathfinder underwent a radical change from trucky SUV to family-friendly crossover. Model-year 2014 brings more changes to its lineup — Nissan unveiled the Pathfinder Hybrid at the 2013 New York International Auto Show with promises of 27 mpg and uncompromised interior space from the seven-passenger crossover.
More 2013 New York Auto Show Coverage
Nissan's first hybrid crossover, the front- or all-wheel-drive Pathfinder Hybrid, uses a new supercharged 2.5-liter gasoline engine and a 15-kilowatt electric motor paired with a compact lithium-ion battery. A CVT is the sole transmission. Nissan puts total power output at 250 horsepower and 243 pounds-feet of torque and says it will be able to tow 3,500 pounds when properly equipped.
Fuel-economy gains will be modest. The automaker estimates that the hybrid crossover should get 25/27 mpg city/highway. The gas version's 260-hp, 3.5-liter V-6 is EPA rated at 20/26 mpg (front-wheel-drive models).
SV, SL and Platinum trim levels will be available, and it'll be tough to tell hybrid and non-hybrid versions apart. Nissan says the only differences outside are a PureDrive hybrid badge and LED taillights. Inside, the automaker claims the new hybrid should also offer just as much cargo and passenger space as the non-hybrid version thanks to a compact battery under the third-row seat.
"With this innovative design, there is no reduction of passenger-seating capacity, second- or third-row legroom or cargo space. And, with the flat rather than raised floor, entry and exit to and from every row is as easy and convenient as the non-hybrid Pathfinder models," Pierre Loing, Nissan North America vice president of product planning, said in a statement.
The 2014 Nissan Pathfinder Hybrid will join its 2014 Infiniti QX60 Hybrid sibling (formerly the JX35) in showrooms at summer's end. Nissan says its new hybrid will be priced "around just $3,000 more than Pathfinder 3.5-liter V-6 models." Front-wheel-drive SV versions of the 2013 Nissan Pathfinder starts at $32,755, including destination.