2014 SRT Viper TA (Time Attack) at the 2013 New York Auto Show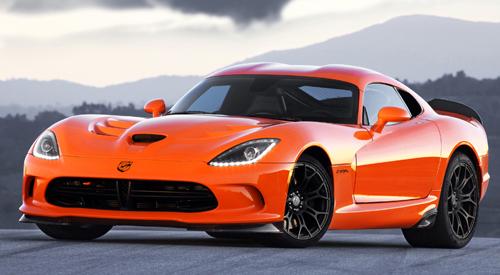 Competes with: 2013 Chevrolet Corvette ZR1, 2014 Nissan GT-R
Looks like: A Viper competition car endorsed by Dreamsicle
Drivetrain: 640-hp, 8.4-liter V-10 engine; six-speed manual transmission; rear-wheel drive
Hits dealerships: 33 examples go on sale starting in third quarter 2013
The SRT Viper TA (Time Attack) is the Viper for track rats and those who want a more dedicated track package from the all-new Viper that debuted for the 2013 model year. Power remains the same at a chest-thumping 640 horsepower, and the package offers a more road-race-oriented suspension and aerodynamic package while remaining street legal.
It's also bright Crusher Orange, the only color available on the 33 planned production examples, and a single-spec trim level with no optional equipment.
An adjustable two-mode suspension borrowed from the up-level SRT Viper GTS combines with the low weight of the "entry-level" SRT Viper base model to make up the package's most notable change besides the retina-burning Crusher Orange paint. It's not a straight swap, however, as the two-mode Bilstein adjustable suspension is retuned with more track-oriented shocks, springs and road-racing derived stabilizer bars. The SRT brand says the TA has a smaller spread between the levels of dampening found on the Viper GTS models.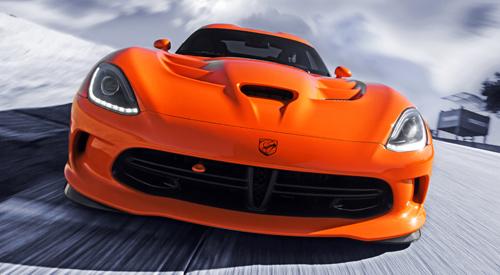 Outside, the front features carbon fiber splitters and a carbon fiber rear spoiler to improve on the Viper's aerodynamic package.
One change under the hood is an X-brace constructed of lightweight carbon fiber; it's aluminum on all other models. Also helping cut weight are the Sidewinder II wheels from the SRT Track Package available on base and GTS models. The Viper TA tips the scales as the lightest Viper with adjustable suspension at 3,348 pounds — the GTS is the only Viper that receives the two-mode suspension in non-TA models.
The SRT Viper TA makes its debut at the New York Auto Show on March 27.
Related
2013 SRT Viper: First Drive
2013 New York Auto Show: What to Expect
2013 SRT Viper at the 2012 New York Auto Show