2014 Toyota Highlander: Up Close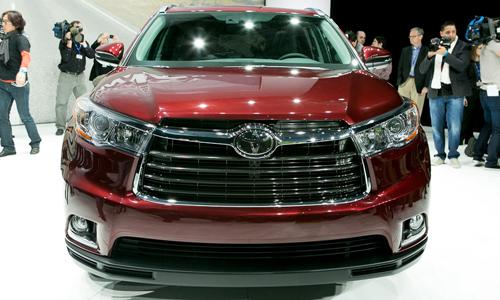 Toyota's all-new 2014 Highlander has a commanding presence that's not typical of the brand's traditionally conservative styling. At the 2013 New York International Auto Show, Toyota cat-walked the new Highlander down a fashion-show runway; its new Tundra-like front grille and masculine design look great in motion.
More 2013 New York Auto Show Coverage
The upscale Limited trim level on display takes a similar leap in interior quality as the all-new 2013 Toyota Avalon — a car that has one of the nicest interiors for its price. Like the Avalon, the Highlander Limited shows off soft-touch materials in key user-contact areas like the steering wheel, arm rests and upper door panels where elbows also rest. High-quality leather stitching surrounds the upper dashboard, steering wheel, seats and door panels. Painted plastic around the climate controls does a poor job simulating an aluminum look, however. I prefer a darker color, which better hides the imitation look.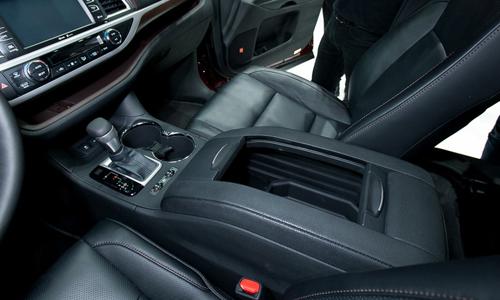 Innovative features abound in the 2014 Highlander with a dashboard storage shelf just for electronics as well as a massive center storage bin that can swallow a purse or laptop. In the back, the available captain's chairs include a collapsible cupholder and storage tray that folds into the side of the rear passenger seat.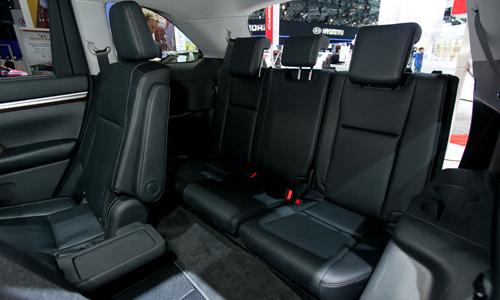 The Highlander's cargo and third-row capacity are increased compared to the outgoing model. The 2013's cargo area barely fit groceries with the third row in the upright position. That key area offers more usable space for 2014; Toyota claims there's 34% more room, and it shows.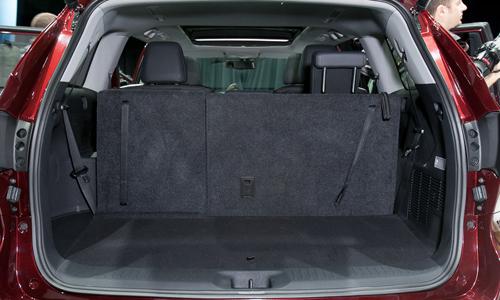 It's rare that a midsize SUV offers perfectly comfortable room for an adult my size — 6 feet tall — and the Highlander is no different despite its increased third-row room. Headroom is still tight and the seat is set close to the floor, so my knees were elevated. Two adults fit back there with plenty of buffer room between us now that there's seating for three instead of two. Stepping into the third row is also much easier; a one-touch sliding second row offers plenty of forward travel for easy entry and exit.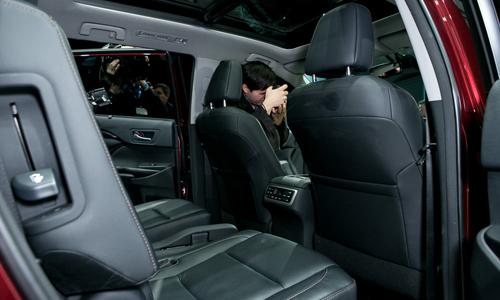 The sliding second row also supplies good room for the second- and third-row passengers' legs. With the second row in its most forward position, I still had ample legroom. That bodes well for third-row passengers; second-row riders don't have to crunch the legs of those behind them to get enough legroom for themselves.
The Limited trim level on display makes huge strides in offering a more upscale Highlander, though we look forward to poking around in a less expensive LE or XLE to see how much of the interior's niceness carries over. Less expensive trim levels have different textures and materials, though all models share the same overall room improvements and design.