Collaboration Aims to Get a Handle on Pet Safety Restraints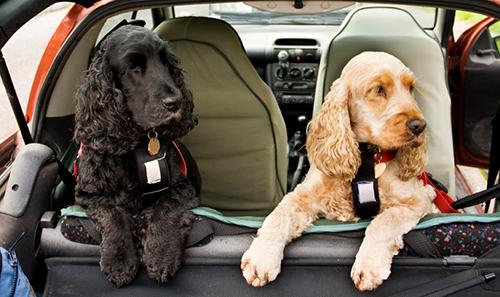 An automaker and an advocacy group have taken on in-car animal safety as a mutual pet project. Subaru and the Center for Pet Safety, a nonprofit research organization, have teamed up to fund testing of car safety restraints for pets, according to a news release.
The effort will include the adoption of standardized testing of such restraints and the reporting of top performers. Though numerous car pet restraints — typically a harness that buckles into the seatbelt — are available at pet-supply retailers, no performance standards or test protocols now exist in the U.S. for such products, the release stated.
"The Center for Pet Safety conducted a pilot study, which showed that the majority of pet safety restraints currently on the market do not provide acceptable protection in a crash situation," Subaru spokesman Michael McHale said.
Center for Pet Safety researchers came to that conclusion after conducting crash testing on commonly available pet-safety restraints using specially designed 55-pound "crash test dogs" in 30-mph collisions. Four popular dog car harness brands "demonstrated that they either could lead to plausibly serious or fatal injuries for not only the canine but driver, too." The bodies of unrestrained animals pose a danger to humans as their bodies can become deadly "missiles" in a crash.
While only a few states have laws specifically targeting unrestrained animals in vehicles, others can charge motorists under distracted-driving or animal-cruelty laws, according to a USA Today report from last year. A 2010 survey by AAA stated that 20% of participants admitted to letting their dog sit on their lap while they drove, while 31% said they were distracted by their dog, the newspaper reported. The National Highway Traffic Safety Administration reports that distracted driving causes thousands of deaths, and hundreds of thousands of injuries, each year.
For tips from Kicking Tires on how to keep your dog — and your human passengers — safe in the car, watch the video below.
Related
Yes, Dogs Are a Driving Distraction, Too
States unleash laws on restraining pets while driving
(USA Today)
More Safety News on Cars.com