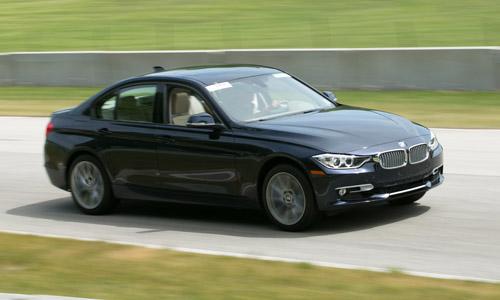 BMW's compact 3 Series lineup continues to grow. A new wagon variant goes on sale this spring, and the swoopy Gran Turismo hatchback will follow this summer. On the heels of those new models is the diesel-powered 2014 328d. It'll debut later this month at the New York International Auto Show.
Powering the compact sedan is a turbocharged four-cylinder. BMW pegs output at 180 horsepower and a robust 280 pounds-feet of torque; it quotes a zero-to-60 time of around 7.2 seconds. Fuel-economy figures aren't in yet, but the automaker says to expect "mileage that could well-exceed 40 mpg." Rear- and all-wheel-drive versions will be available and a wagon version should follow the sedan. BMW wouldn't comment on the timing of the wagon's launch, however.
Also at the auto show, BMW will unveil the Concept Active Tourer plug-in hybrid. The long, wedgy concept uses a three-cylinder engine and an electric motor for BMW-estimated fuel economy of 95 mpg.
The GT, 328d and Concept Active Tourer will be on display at the show. Press days are March 27 and 28.
Related
2014 BMW Gran Turismo: First Look
BMW 3 Series Sports Wagon: First Look
Research the BMW 3 Series