Government Releases New SaferCar App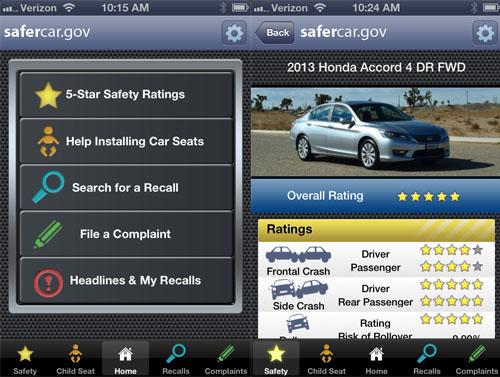 The National Highway Traffic Safety Administration released a new app for the iPhone, iPad and iPod Touch with five-star crash test ratings from its SaferCar.gov site. Besides providing the ratings, the app allows you to register your vehicles and receive notices of recalls or other safety issues. It also helps you file vehicle complaints to the NHTSA, get directions to the nearest child-seat inspection station and read NHTSA headlines and safety alerts.
We just downloaded the app, which leads with a red-letter, all-caps warning against texting and driving. The app is easy to use, but recall searches only go back to 2000; NHTSA's website allows searches as far back as the 1949 model year — regarding, incidentally, defective windshield wipers on the Volkswagen Beetle.
The free app works on the iPad, third-gen or later iPod Touch and iPhone 3GS or later. NHTSA says it's working on an Android version.
Related
See Vehicle Recalls
More Safety News
More Automotive News