Recall Alert: 182,800 Honda, Acura Vehicles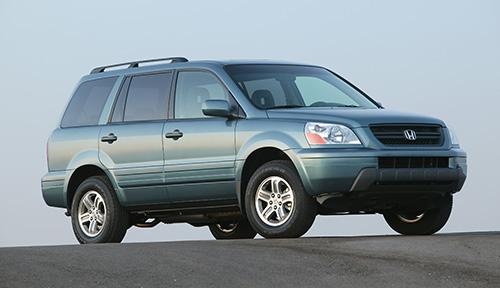 Honda is voluntarily recalling 182,800 vehicles due to an electronic stability system malfunction, according to a statement from the automaker. Affected vehicles are 101,000 Honda Pilot crossovers, 60,000 Acura MDX SUVs and 21,000 Acura RL sedans, all from model-year 2005; 800 model-year 2006 Acura MDX SUVs are also affected.
According to Honda, if an electrical capacitor on the system's control unit was damaged during the manufacturing process, the system could malfunction and apply a small amount of brake force for a fraction of a second outside the driver's control. If the driver applies the brakes during a system malfunction, a crash could result.
In addition to the recall, 51,000 of the affected Pilot crossovers will be inspected to ensure that an electrical ground bolt for the electronic stability system is properly tightened; a loosened ground bolt may cause a similarly short period of unintended brake activation. According to Honda, no crashes or injuries have resulted from these issues.
Honda will notify owners in mid-April, and Honda and Acura dealers will install a new electrical sub-harness for free. In the 51,000 affected Pilot vehicles, dealers will properly tighten the ground bolt for free. For more info, Honda owners can call 800-999-1009 or go to www.recalls.honda.com, and Acura owners can call 800-382-2238 or go to www.recalls.acura.com.
Related
Recall Alert: 748,000 Honda Pilots and Odysseys
Read About Other Recalls
More Safety News on Cars.com