Two Big Family Haulers, Lots of Incentives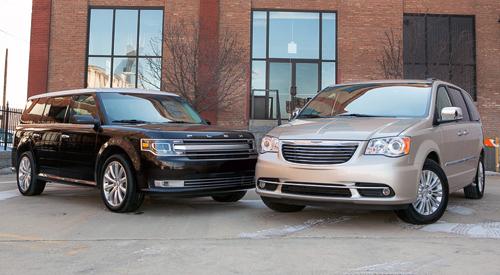 A good deal can make an ugly car more palatable or a mediocre car more desirable when the end result means a ton of money off the asking price. Maybe the Ford Flex's hearse-like styling becomes acceptable or the Chrysler Town & Country's minivan stigma less traumatic when there are serious incentives on the table, which happens to be the case with the 2013 Ford Flex Limited with the Titanium Package and 2013 Chrysler Town & Country Limited we recently tested.

As configured, the Flex and Town & Country offer similar gas mileage ratings, seating for seven, comparable horsepower and equal safety ratings from the Insurance Institute for Highway Safety. Plus, nearly identical retail prices are separated by a mere $170: $42,570 for the Flex and $42,440 for the Town & Country as-tested, not including destination charges. The amount of money taken off the top is impressive with enough discounts to take the whole family on a summer vacation in either family hauler.
The Ford Flex's incentives in the Midwest include the coveted zero-percent financing; incentives are similar nationwide. Zero-percent financing pairs with $1,000 cash back to offer the Flex's lowest total cost of $41,570 without additional negotiating or dealer incentives. The Flex's caveat is that only those with the best credit ratings will qualify for zero-percent financing, and the term length is 48 months. An $866.04 monthly payment comes with the 48-month financing, but not considering other costs like taxes, destination and dealership fees.

A second offer of up to $3,500 cash back includes $2,500 consumer cash and $1,000 cash back when using Ford's financing — both offers expire April 1. The monthly payment is lower with a 60-month term $701.42, though the overall cost is an additional $1,621 compared to the zero-percent deal. We used Bankrate.com's national average 60-month interest rate of 4.018% for new cars. Cars.com provides a Cash Back vs. Low Interest calculator to weigh the differences between the offers, found here. It's hard to beat zero-percent financing in most situations.

Surprise, surprise: Zero-percent financing is also offered on the Town & Country with $500 cash back on the Limited trim level only. Our tester came to $42,440 before incentives. But instead of a 48-month term, Chrysler offers a financing term of up to 60 months for a lower monthly payment of $699 over five years compared to the Flex's $866 monthly payment for four years. The total amount paid after the loan's term ends is $41,940 for the Town & Country and $41,570 for the Flex.

In the end, both save consumers nearly $5,000 compared to having no incentives. We'd choose the Flex for our money with its additional refinement and non-minivan looks, but those who need more cargo room or who are offended by the Flex's appearance (most people, in fact) can still save a lot with the Chrysler. As always, we recommend negotiating the price before applying any incentives when it comes down to making a deal.

Related
Compare the Ford Flex and Chrysler Town & Country
2013 Ford Flex Review
Incentives News