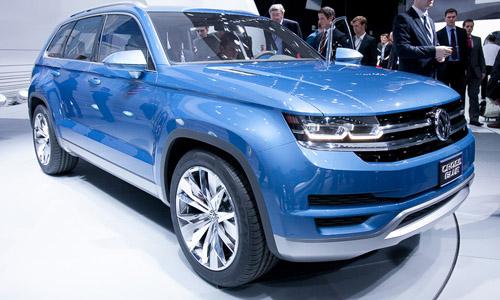 Volkswagen could build a new full-size SUV in its 2-year-old Chattanooga, Tenn., plant.
The Detroit News reports
the automaker is mulling an expansion in Chattanooga, which produced around 180,000 Passat sedans in 2012, to assemble an SUV designed specifically for the U.S. market. That new three-row vehicle would compete with the likes of the Ford Explorer, Chevrolet Traverse and Honda Pilot. The automaker's current Tiguan battles their smaller siblings — the Ford Escape, Chevrolet Equinox and Honda CR-V — while Volkswagen prices the five-seat Touareg against luxury SUVs like the Lexus RX.
The new SUV is a long time coming. Volkswagen Group of America CEO Jonathan Browning told us in 2011 that a full-size crossover would be "a very natural extension to the brand." And at January's North American International Auto Show, VW showed a three-row CrossBlue concept SUV (above) that looks close to production ready.
"After the success of the U.S. version of the Passat, the goal is to establish ourselves in another core segment," Volkswagen AG Chairman Martin Winterkorn told the Detroit News on Thursday. Production chief Michael Macht said Volkswagen will either expand Chattanooga or build a second U.S. plant, and VW sales chief Christian Klingler said a handful of U.S.-specific models could follow.
Through February, the Ford Explorer was by far the most popular three-row crossover SUV, outselling the Toyota Highlander and Honda Pilot — in second and third place, respectively — by nearly 2-to-1 each.
Related
Volkswagen CrossBlue at the 2013 Detroit Auto Show
2015 Volkswagen Golf to Debut at 2013 New York Auto Show
More Automotive News