CARS.COM — House-style AC outlets are one of those handy "little things that count" new-car convenience features that literally have hundreds of uses. The outlet goes by different names and voltage ratings like 110-,115- and 120-volt AC outlets, though they all serve the same purpose and offer an alternative multi-use outlet compared to the common probe-style DC outlets that accept phone and portable GPS chargers.
The feature is still far from standard equipment on family cars (where it often appears), and is usually paired with expensive rear-seat multimedia systems in large SUVs and minivans or available only on more expensive trim levels. When equipped, the outlets are typically found in the second row or cargo area appearing just like they do on the wall at home.

As cool as it would be to plug an electric snow blower or refrigerator into your car, not everything with a plug will work. The plug has its limitations, and there are guidelines to follow in order to use electronic devices safely.
Around the Cars.com office, the AC outlets see all types of use in the cars we test. They help warm game-day meatballs in a slow cooker and inflate a mattress while camping. They also come in handy for keeping an iPad charged during a road trip to occupy kids' attention. Most commonly, the AC outlets help us work on the go by functioning as a portable charging station for laptops and camera batteries; the outlets also charge phones faster than the USB port.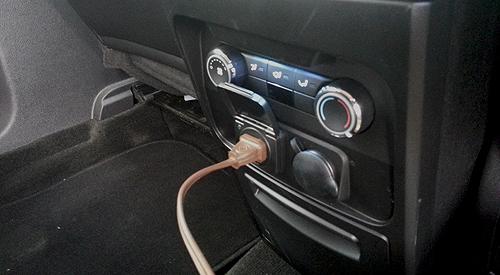 Most new cars have around a 150-watt maximum rating, which is good for most portable and small electronic devices. A simple way to check if the device is car-friendly is to look for a wattage rating on the bottom of a device or power supply or in the device's owner's manual.

Those wanting to plug in newer gaming systems — which seems perfectly normal when the outlet is included in an "entertainment package" — should be careful. Some automakers warn against plugging in those systems. The 2013 Dodge Durango, in which the 150-watt maximum outlet is standard in all models except the base SXT, says in its owner's manual:

"Certain high-end video games, such as PlayStation3 and Xbox 360 will exceed this power limit, as will most power tools."

And that's not just for the Dodge. Any outlet with a 150-watt maximum rating would have the same limitations. Newer versions of those gaming systems have scaled back their wattage rating, but always check the device to make sure. Most outlets will automatically shut off via overload protection when a device that's too powerful is used. We recently tested a 2013 Ford Flex; its owner's manual cautions not to use an extension cord with the AC outlet.

"Doing so may cause the power point to overload due to powering multiple devices that can reach beyond the 150-watt load limit and could result in fire or serious injury."

Moral of the story: Readers are leaders when it comes to safely using electronics in the car.

Related
Top 10 Little Things That Count
Find the Right New SUV
Find the Right New Minivan/Van