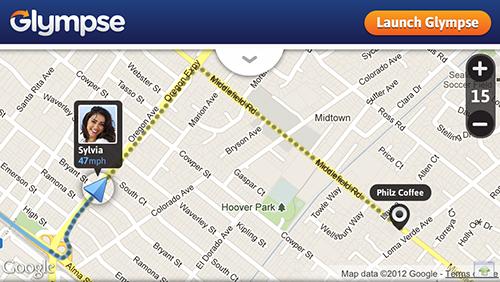 New in-car location-sharing technology could revolutionize couples' knack for notifying each other that the household is out of milk just as their spouse drives past the supermarket. Then again, it could also make those special-occasion stops at the florist and such a bit trickier to keep secret.
Whatever one's level of interest in letting family, friends and others know exactly where one is at all times, BMW announced that it has partnered with mobile technology company Glympse Inc. to make mobile location sharing more user friendly than ever. The Glympse App will be available to BMW Apps-ready and Mini Connected vehicles, allowing drivers to easily broadcast their real-time location to selected contacts through Facebook, Twitter or a general contact list. That's in addition to the ability to send an estimated time of arrival and destination to calendar event attendees.
To access the app, users will plug their iPhone into their vehicle and the custom BMW interface will appear on the dash. Drivers can select their desired contacts and, with the touch of a controller, share their location info for a chosen period of time. Recipients can view the sender's location on a dynamic map in real time on a computer or mobile device without having to download the app themselves.
"With this integration, we've been able to make sharing your location from your car as easy as changing the radio station," said Bryan Trussel, CEO and co-founder of Glympse.
No official launch date for the location-sharing app has yet been announced.
Related
Hyundai BlueLink: An OnStar Rival and More
iPhone 5 Turn-by-Turn Navigation vs. Android vs. Automaker
More Car Gadgets News on Cars.com