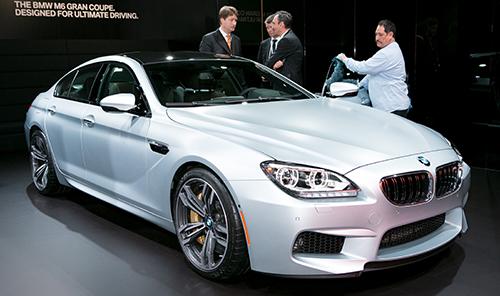 Most significant changes: The introduction of an M6 Gran Coupe; optional six-speed manual, carbon ceramic brakes and all-wheel drive on all non-M6 models
Price change: TBA
On sale: Early June
Which should you buy, 2013 or 2014? An expanded lineup, revised multimedia system and available all-wheel drive make the 2014 model pretty appealing.
With the 2014 model year comes the introduction of the M6 Gran Coupe along with a roster of new and expanded options for the returning members of BMW's 6 Series lineup. Set to launch June 5, the new high-performance, rear-wheel-drive M6 Gran Coupe, which debuted at the 2013 North American International Auto Show in Detroit, will join 2014 versions of the 640i and 650i Gran Coupe, as well as 640i, 650i and M6 coupe and convertible models.
All 2014 M6 models will offer a new six-speed manual transmission as a no-cost option and carbon-ceramic brakes. The carbon-ceramic brakes better dissipate heat during high-speed braking while netting a nearly 43-pound weight savings and improving aesthetics, BMW says.
BMW's xDrive intelligent all-wheel-drive system will now be available on all 2014 6 Series models except the M6. In addition, all models will get iDrive4.2, the latest version of BMW's multimedia system. The automaker says it features a revised design and honed operating system, including new graphics and 3-D elements, improved navigation displays, full speech-recognition and voice-control capabilities; there's also new radial "Pie" and split-screen menu functions.
Heralding the new 6 Series rollout will be the May release of the 100-unit limited offering of the 2014 BMW 6 Series convertible Frozen Brilliant White Edition. The edition is available in 650i or 650i xDrive and starts at $106,695 and $110,095, respectively, including an $895 destination charge. It features unique exterior flourishes and interior upgrades.
Related

2014 BMW M6 Gran Coupe at the 2013 Detroit Auto Show
2014 BMW M6 Gran Coupe: Photo Gallery
More BMW 6 Series News on Cars.com