$46,000 Sport Sedan Challenge: By the Numbers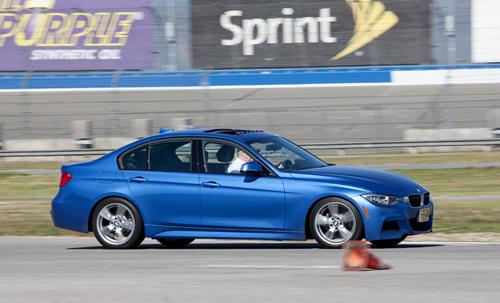 It wasn't hard for the 2013 BMW 3 Series to win over our critics at our latest Challenge. The sedan was exceptionally well-balanced on the track and around town and was overall a blast to drive. It was when the tests came down to hard numbers, though, that the 3 Series separated itself from the pack.
We put each of the six contenders through an approximately 180-mile mpg route that included surface roads and highway driving across Southern California. We also tested each of the car's zero-to-60 and quarter-mile times as well as braking distance on the drag strip.
The 3 Series kept delivering the best numbers, no matter what the test.

The BMW hit 60 mph faster than the other five models, beating out the next closest Volvo S60 by a few fractions of a second, but it outperformed the other four significantly.
Distance proved to be no problem for the 3 Series, either, as it completed the quarter-mile run in 15.22 seconds, again just edging out the Volvo S60 and its all-wheel drive.
Braking was a slightly different story. The 3 Series topped the field, but this time the Audi A4 came closest.

Then came the shocker of the entire Challenge. A car can often dominate performance categories, but there's usually a sacrifice to be paid at the pump. Not so with the 3 Series.
It returned 28.1 mpg on our mileage route, easily outpacing the rest of the field. This time the A4 came in second again. The Volvo that had performed so well getting to speed paid the price at the pump with its last-place finish.
Related
$46,000 Sport Sedan Challenge
Research More Luxury Cars