Audi Latest Automaker to Introduce Gas-Price App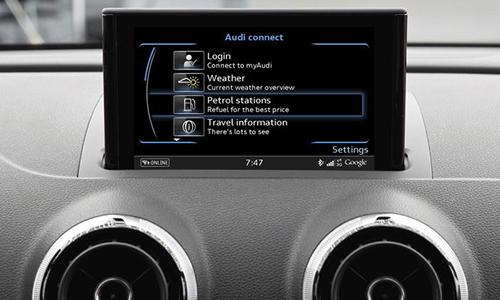 Joining automakers such as GM and Ford, whose respective infotainment systems — Chevrolet MyLink and MyFord Touch — offer drivers the ability to find the nearest station with the cheapest gas, Audi has added an app to its lineup helping folks find where to fill 'er up frugally. The German automaker announced this week that, beginning in May, members of its A3 family of hatchbacks equipped with Audi connect will have access to Refuelling Stop, a new online service that provides information about where to find the cheapest gas.
According to Audi, the service consults an online database of gas stations and prices and matches the list to the driver's current location or destination. The driver can sort search results by price or distance, and simply click on the station and set it as the navigation destination. The system will even consider the type of fuel required by the A3, which can be premium or diesel depending on the engine.
In the future, Audi says, it will also offer Refuelling Stop on the A4, A5, A6, A7, A8, Q3, Q5 and Q7. The system requires Audi's MMI Navigation plus and the optional online Bluetooth connectivity system or the Audi connect option in A3 models. The entire model lineup offers multiple online services to help economize driving, including real-time traffic conditions along a selected route with related detour suggestions.
Although Refuelling Stop likely will come in handy for many Audi owners, your smartphone is all you need to find the best price on gas wherever you might be. Websites like GasBuddy.com and GasPriceWatch.com let you search for the best deal on fuel by entering the city and state or ZIP code. Other tips on how to save at the pump include:
Shopping around for the best deal. It's unlikely the cheapest gas will always be at the same station.
Paying cash at stations that offer better deals to customers who do so. They typically do this to avoid sharing profits with credit card companies.
Avoiding gas cards, which often discourage users from shopping around and often carry a high annual percentage rate.
Making sure a gallon is a gallon. States can't always inspect every station regularly to ensure pumps are functioning properly, so keep an eye on the digits.
Related

MyFord Touch Revolutionizes In-Car Displays
GM's New Framework Could Add Apps Galore
10 Tips Gas Stations Don't Want You to Know