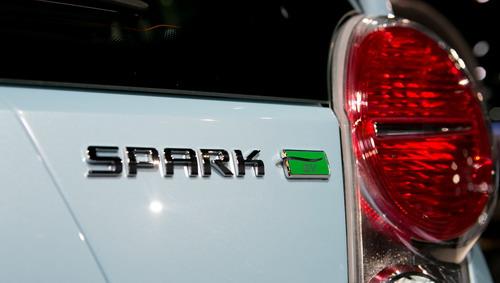 Chevrolet announced Wednesday that it expects an EPA rating of 119 miles per gallon equivalent (MPGe) for the 2014 Spark EV. The all-electric version of the mini-hatchback will travel 82 miles when fully charged, Chevrolet says.
With a dedicated 240-volt (Level 2) charge, the Spark EV's battery reaches full capacity in about seven hours. Chevrolet says the Spark EV can charge to 80% capacity in as little as 20 minutes with a direct-current Level 3 quick charger. It's also among the first cars to get the industry's new combo charger, which integrates all types of charging into the same connector.
Chevrolet says that the Spark EV's electric drivetrain, which makes some 130 horsepower and 400 pounds-feet of torque, accelerates the car to 60 mph in less than 8 seconds. The efficiency figures compare well with other EVs. See how they stack up below:
Like many other electric cars, the Spark EV will only be available in select markets. Chevrolet plans to roll it out this summer in California and Oregon, but there's no word on national availability. Pricing is still pending, but the car's 21-kilowatt-hour battery means it should qualify for the maximum federal tax credit of $7,500, for which every plug-in with a battery of at least 17 kwh qualifies.
Related
2014 Chevrolet Spark EV: Up Close
2014 Chevrolet Spark EV: Photo Gallery
More Green-Car News