Honda Fit Wheel-Theft Trend Hits Home
If Jennifer Newman had known her family's 2007 Honda Fit Sport was a target for thieves, she might not have traded her 2009 Nissan Versa hatchback with her father last summer. Newman — a senior editor for Kicking Tires — said she and her father made a mutually beneficial swap; he found the Fit's seats and suspension uncomfortable, and her family needed its cargo room. But then she woke up one recent morning to a text message from her neighbor: The wheels of her Fit were gone.
"I didn't know at the time that Fit wheels were being stolen," Newman said. "Had I known, I'm not sure I would have traded cars." Why the Fit specifically? Its alloy wheels are attracting thieves.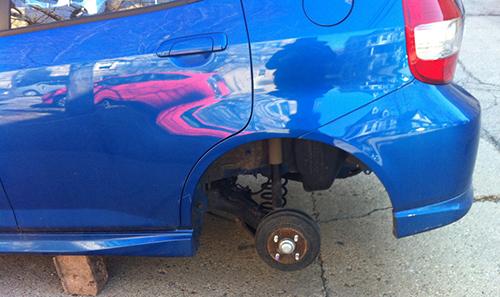 The up-level Sport model's standard 15-inch alloy wheels fit low-riding custom street cars and some popular car models; they can also be resold for hundreds of dollars in illegal markets. But it can cost the car owner far more than that to replace them, depending on their insurance coverage. For Newman, whose insurance provider classified the incident as theft, the deductible cost her $500 while the loss totaled more than $3,000 due to damage to the exhaust system and rocker panels. Plus, the family had just put new tires on the car.
Newman learned she was hardly alone. News reports of stolen Fit wheels in recent years have come from several cities, including New York, Chicago and Boston. Last year, the New York Times reported a nationwide resurgence of wheel theft in general, noting a sight more common in the '80s: cars perched on cinder blocks after being worked over by a crew of wheel thieves.
In Chicago, particularly in North Side neighborhoods where Newman lives, CBS 2 News chronicled the Fit phenomenon and the owners who had, like Newman, woken up to find their cars on blocks, sans wheels.
"The thieves took all four wheels and left the car up on small, curved blocks that are used for landscaping," she said, noting that her parking space was in a well-lit area near a sidewalk.
Evidence for the Honda Fit phenomenon is largely anecdotal — neither police nor other crime-stats watchers keep numbers specific enough to identify one type of vehicle. According to info provided by the National Insurance Crime Bureau, between 2010 and 2011 the FBI actually recorded an 8% decline in overall thefts of vehicle accessories in the U.S., though that includes all categories, of which wheels are only one. Still, during that period there were 434,732 such thefts with a $540 average loss.
Unfortunately, there's not a whole lot a Honda Fit owner can do to prevent wheel theft beyond using lug locks that require a special key to remove. While that will deter a certain kind of thief, experts say, that's only going to be a speed bump for a motivated, knowledgeable, fast-working crew.
Newman said she has invested in lug locks and still parks in her space, though the incident has left her feeling vulnerable.
"We're a one-car family and have been thinking of getting a bigger car in the next year or two," she said. "Because of this experience, I'd like to accelerate our new-car plans."
Related
Read More About the Honda Fit
Honda Accord, Civic Remain Most-Stolen Vehicles
Pickup Truck Tailgates Prone to Quick, Easy Theft