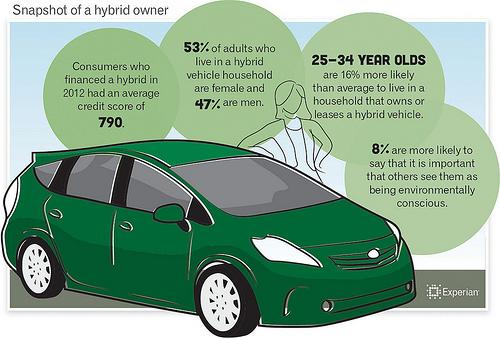 According to new data from Experian, hybrid vehicles still make up only a small percentage of all cars on the road today, but they're gaining market share. The data company's study showed that hybrid car market share went from 2.2% in 2011 to 3.1% in 2012.
Who's buying hybrids? The study also took a look at the typical hybrid owner and came up with an interesting snapshot. First off, hybrid consumers have a higher credit score than those buying a non-hybrid car; the average score of a hybrid owner who applies for a loan is 790 compared to 755 for non-hybrid loan applicants. Experian also notes that hybrids tend to appeal to a younger audience; 25- to 34-year-olds are 16% more likely than average to live in a household that owns or leases a hybrid vehicle, the agency reports.
Experian's data also shows that the average new hybrid vehicle loan is $25,807 while the average non-hybrid new-vehicle loan is $26,691. The average monthly payments differ by only $1 — $461 for hybrid owners and $460 for non-hybrid owners — because of the difference in interest rates. Hybrid vehicle owners typically pay a 3.51% interest rate, Experian reports, while non-hybrid new-car owners pay an average rate of 4.36%.
The agency lists the top 10 financed new hybrids and electric cars in 2012 and their percentage of market share as follows: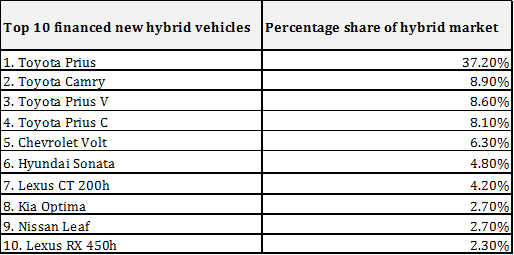 Related
The Top 10 Cities Where Car Shoppers Go Green
Research Hybrids
More Green Car News