Mercedes-Benz GLA Concept at the 2013 Shanghai Motor Show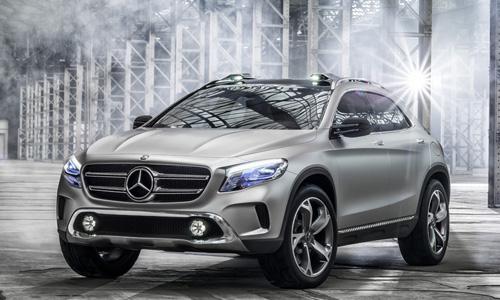 Looks like: A swanky compact crossover from Mercedes-Benz
Defining characteristics: Layered dashboard, aggressive exterior styling
Ridiculous features: "Laser-beam projector headlights," temperature-dependent color-changing interior air vents
Chance of being mass-produced: Built on current Mercedes A- and B-Class vehicle platforms, so probably very good
The last big auto show of the global season is upon us, and it is shaping up to be perhaps the biggest of the circuit. Mercedes-Benz has chosen the Shanghai motor show in China to unveil a new concept: the Concept GLA compact crossover.
Built off of the same platform as Mercedes-Benz' A- and B-Class vehicles, which we will see in the U.S. as the 2014 CLA sedan and B-Class Electric Drive, it uses a 2.0-liter turbocharged four-cylinder engine to make 208 horsepower. That energy is channeled through a seven-speed automatic transmission to all four wheels using Mercedes-Benz' 4Matic all-wheel-drive system. So mechanically, the Concept GLA is certainly feasible, and given the Chinese market's thirst for small premium compact crossovers, it makes sense.
Styling is certainly avant-garde, and more concept-car fantasy than the mechanicals. Its exterior could easily be translated into a production vehicle, once the GLA loses things like laser-beam headlights and 20-inch wheels. The company says that not only do the lasers help shine more light on the road, but they can also operate as projectors, displaying any visual media played through the Comand entertainment system in the car. While it may be fun to bring your own drive-in movie wherever you go, Mercedes-Benz says that it could potentially also be a useful production feature, a kind of next-generation head-up display, projecting things like navigation arrows on the road to help the driver and surrounding pedestrians know where the car is going. Frankly, the legality of this concept seems rather unlikely.
Inside, a layered approach to the dash is attractive and refreshing, featuring unique-looking painted plexiglass control buttons. Mercedes-Benz is going for the image of an expensive saddle with color and leather choices; there's 65 feet of hand-stitched cowhide throughout the four-passenger interior. The air vent surrounds are temperature sensitive — at 71 degrees Fahrenheit they glow white, but if they get any warmer or colder, they glow red and blue, respectively. Tone down the concept-car fun, and what you see here could easily be a new GLA-Class to complement Mercedes-Benz' push into entry-level segments with a new small crossover.
Related
Research the Mercedes-Benz CLA-Class
More Mercedes-Benz News
More Auto Show News