Share Your Car Seat Knowledge With Grandparents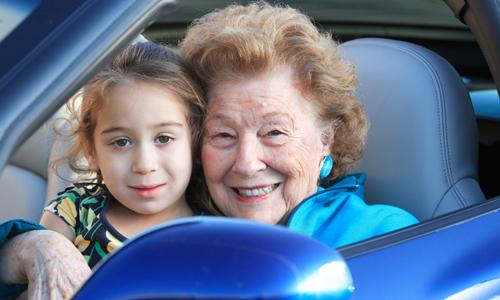 With summer fast approaching, many of us will be relying on grandparents for extra help when the kids are out of school and we're at work. Even if grandparents aren't called on daily but just for a weekend outing, it's our job as parents to help educate our own parents on the importance of properly using child restraints in the car.
In a recent study published in Accident Analysis and Prevention Journal, researchers looked at the differences between parents and grandparents in child-safety practices in the car. The study found that while the focus group of grandparents had a favorable attitude toward the usage of child-safety seats, they were more likely than parents to install them with looser lower anchor straps and looser seat belts. They were also more likely than parents to allow children younger than 13 to ride in the front seat. The National Highway Traffic Safety Administration recommends that children don't ride in the front seat until they're 13 or older.
While many of the grandparents in the study recognized the importance of their grandchildren being buckled up, they believed that cars seats were difficult to use. Amen, Grandma! We all feel your pain in that regard. They also brought up the issue of physical limitations such as decreased strength and mobility, back pain and arthritis contributing to difficulty in installing child-safety seats.
While it's often a blessing to have grandparents nearby to spend time with the kiddos, it's important that we as parents help them whenever possible to properly install child-safety seats in their car, and let them know of today's laws and our own personal rules regarding the safety of our kids in their cars. Or better yet follow the lead of one of Cars.com's editors; he hands over his car (with the properly installed child-safety seats) along with the kids for grandparent outings.
Related
More Parents Follow Updated Car Seat Guidelines
New NHTSA Website Helps Parents Choose Right Seat
More Safety News