Toyota, Ford Duke It Out in Sales Number War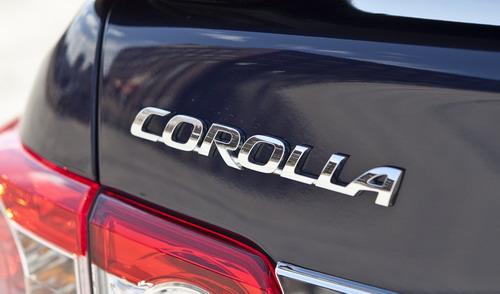 Ford
said Tuesday
that the
Focus
was the world's No. 1 best-selling car in 2012, with 1.02 million sales — a healthy lead over the second-place
Toyota Corolla's
872,774. The automaker cited registration data from well-known consulting firm R.L. Polk.
Now Toyota begs to differ, and it's making the rounds today to tell its side of the story.
"Toyota sold 1.16 million Corolla vehicles globally in 2012, compared to 1.02 million Focus nameplate registrations recently attributed to R.L. Polk by Ford Motor Co.," spokesman Mike Michels said in an emailed statement. "Corolla sedan alone sold 1.08 million. Corolla registrations attributed to Polk come up short by nearly 300,000 units. This discrepancy is glaring, and we have requested clarification." Hours later, Polk responded. "The Polk data reported by Ford earlier this week is accurate based on the single nameplate 'Ford Focus,' " said Anthony Pratt, Polk's vice president of forecasting for North and South America, in a statement to Cars.com. "The data does not include any rebadged vehicles or platform derivatives for Ford Focus or any other vehicle nameplate versions."
But wait. Toyota's sales tally would seem to include sales in nameplate only, too. The automaker says it counts anything with "Corolla" in the name as a Corolla sale. That includes overseas models like the Corolla Altis and Corolla Axio sedans, the Corolla Fielder wagon and the Corolla Rumion hatchback. Toyota says it does not count Corolla derivatives like the Matrix, the Scion xB or the sold-overseas Toyota Auris.
Why are the numbers nearly 300,000 sales apart? It's possible that Toyota counts cars like the Corolla Rumion, which is basically a rebadged xB, while Polk does not. It also goes to show how registration and sales data often differ. One counts the number of cars that new-vehicle owners register; the other counts the number that dealers sell.
"The data is based on new-vehicle registrations compiled from more than 80 countries around the world, representing 97 percent of global new-vehicle volumes," Polk's Pratt said. "Although Polk data is primarily registration-based, it may incorporate sales volumes where registration data is unavailable. Polk does not report on or track global sales data, so [it] does not comment on [automaker] sales claims."
Toward that end, Toyota claims that even if you counted just Corolla sedan sales, you'd arrive at 1.08 million — which still edges out the Focus. "It's a different way of counting chickens, evidently, but we've pulled out all the data, and there's no way to get to the number they reported based on information we have," Toyota spokeswoman Toni Honsowetz told us.
Ford, however, stands by Polk: "According to Polk global new-vehicle registration data, the Ford Focus is the best-selling global vehicle nameplate," Ford sales analyst Erich Merkle said. "And it's based on approved global new-vehicle nameplate registration data." Focus sales include the Focus sedan and hatchback as well as a Focus wagon ("Estate") sold in some international markets.
So the war of numbers continues — and the potential for big marketing claims hangs in the balance. We'll see how the dust settles.
Related
America's 11th Best-Seller Was World's No. 1
Top 10 Best-Selling Cars: March 2013
More Automotive News