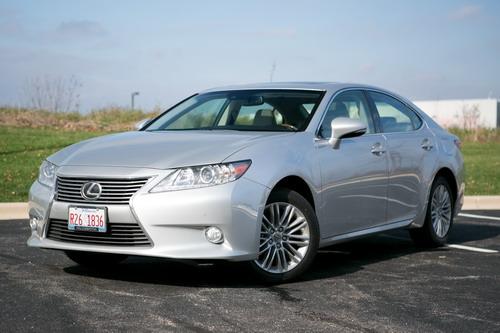 Toyota launched its Lexus division in September 1989 with two 1990 models at opposite ends of the spectrum: the
LS 400
, a rear-drive V-8 flagship, and the
ES 250
, a front-drive cousin to the plebian
Camry
. In their first month, the two cars combined for 4,135 sales. Fast-forward nearly 25 years and Toyota has sold 4,397,799 Lexus cars and SUVs in America. Lexus led all luxury-brand sales from
2000 to 2010
.
All without building a single car here.
That's right. Toyota, whose Kentucky- and Indiana-built Camry has led Cars.com's American-Made Index for four years in a row, imports its Lexus cars from Japan and Canada.
That's about to change, however. The automaker announced today it will build the ES 350 — five generations past the 1990 original — in Georgetown, Ky., to the tune of about $360 million invested. Toyota's 1,300-acre plant, its largest in North America, already assembles the Camry, Avalon and Venza, not to mention various four-cylinder and V-6 engines and other components. It employs 6,600 and builds some 500,000 cars a year; the ES will add 750 jobs and another 50,000 cars to the plant's annual capacity.
Production will begin in the second half of 2015, Lexus spokeswoman Allison Takahashi told us. Toyota expects Georgetown to build every Lexus ES 350 sold in the U.S.; the hybrid ES 300h will continue to come from Japan.
Kentucky Gov. Steven Beshear hailed the announcement, saying the additional capacity augments Toyota's "enduring legacy" in the state. The announcement marks the latest in a string of expansions across Toyota's North American operations; Toyota says its 14 plants in Canada, the U.S. and Mexico product 70% of the vehicles it sells in America. Still, the automaker told us it directly employs 31,471 in the U.S. today — well short of figures we reported in 2012 from Chrysler (about 39,000), Ford (65,000) and GM (77,000).
The current ES comes from Japan, where a strong yen — albeit weaker of late — has hampered profits on exports. Building cars in the U.S. shields Japanese automakers from long-term currency fluctuations.
Related
The Cars.com American-Made Index
American-Made Index: Which Automakers Affect the Most U.S. Workers?
More Automotive News