Why Is the Jeep Wrangler Unlimited Popular With Families?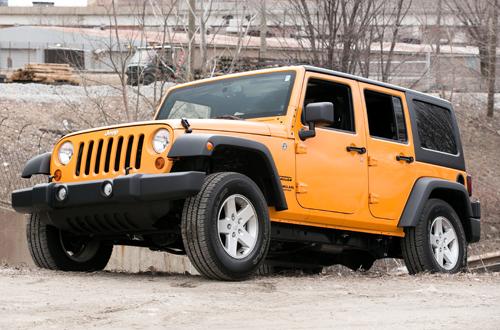 Peek into several suburban garages to read the epilogue of a common story. Two-door-Wrangler-driving dad (or mom) needs a bigger vehicle to accommodate a growing family. The answer: upgrade to the four-door
Wrangler Unlimited
. It makes sense that the larger version of Jeep's rugged SUV would be better suited for family duty — but not so fast, moms and dads. The Wrangler Unlimited is one of the most un-family-friendly SUVs on the market in terms of both comfort and safety.
Although its off-road prowess is second to none, on-road comfort is low on its skills list. The Wrangler Unlimited will not deliver a car full of happy campers: a weekend carting around my family made it clear that the SUV is much better suited for the mountains and mud than garages and grocery runs.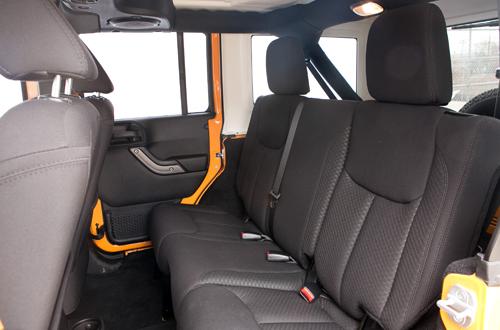 The Unlimited's super-high step-in height makes it really tough for just about anyone to get in gracefully. In my party, smaller kids and older adults had trouble climbing in and once there, the hard, flat seats weren't comfortable for either group. The second row's bench seat lacks depth, so thigh support was another issue. It also provided less room for car seats — they were hanging off the cushion.
On the road, comfort went from bad to worse. A rough, quaky ride and booming levels of road, engine and wind noise — thanks to the hard, unabsorbing removable roof panels — provided a birthday-party-bounce-house-like atmosphere.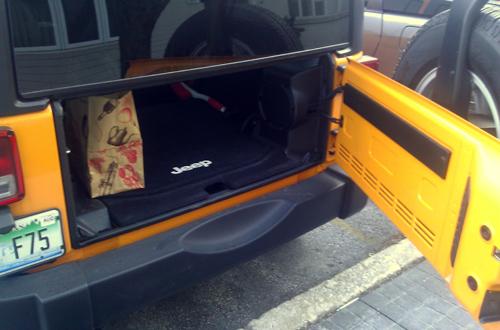 Running regular errands was also tougher than in a traditional crossover. The Unlimited's two-piece liftgate is awkward to use when loading grocery bags and anything bigger. When parallel parked, the side-hinged bottom section of the tailgate is difficult to open without dinging the car behind you.
It wasn't just my family that was unimpressed. In Insurance Institute for Highway Safety testing, the Unlimited scored a Good in frontal crash tests, but only Moderate in side- and rear-impact tests. Front-seat side-impact airbags are optional, and side curtain airbags aren't offered. The Jeep Grand Cherokee, by comparison, scored Good in all those areas, as did competitors like the Chevrolet Traverse and Ford Explorer.
Despite all these negatives, during my weekend test in and around Chicago and its suburbs, I lost count of how many family-filled Unlimiteds I spied tooling around the concrete jungle. So, if it's clear that the SUV doesn't provide the comfort most families need, why then is it so popular with families?
The Wrangler itself has always been one of Jeep's best-selling nameplates, with sales consistently on the upswing. According to Jeep communications representative Patrick Hespen, the Wrangler Unlimited's popularity has eclipsed the two-door's. Hespen told us that the Unlimited accounts for approximately 60% of Wrangler sales, an unexpected outcome when Jeep originally launched the four-door version for model-year 2007. According to Hespen, the larger Wrangler attracts a very specific buyer compared to its two-door sibling, namely families.
"The audience for Unlimited models are the adventure-seeking types with families who didn't want to sacrifice off-road performance but needed a vehicle with more space for their family and gear," he said.
But why choose an Unlimited over something more family friendly? Despite the fact that, according to Hespen, around 70% of Unlimiteds are actually driven off-road, what it comes down to, he agreed, is image. "The vehicle's image is one of the top considerations when purchasing a Wrangler," he said. In short, some buyers are willing trade comfort for coolness. To my family, however, it's not a worthy trade-off.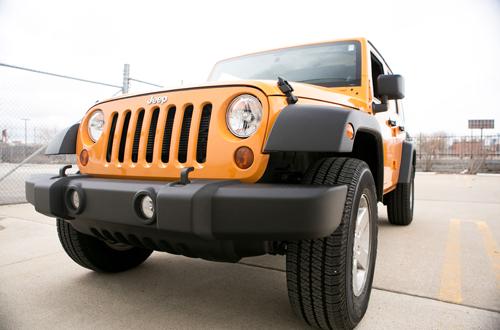 Often, unexpected vehicles turn out to
make good family-haulers
, but that's not the case with the Wrangler Unlimited. Several of brand parent Chrysler's vehicles, however, deliver solidly in that department, including Jeep's own
Grand Cherokee
and especially — gasp! — the
Dodge Grand Caravan
and
Chrysler Town & Country
minivans. For the latter, however, you'll have to throw coolness completely out the window.
Related
Unexpected Family Car: 2012 Mini Cooper S Countryman
Unusual Suspect: Ford F-150 Works as Family Car
More Family News