2013 Audi RS 5: Photo Gallery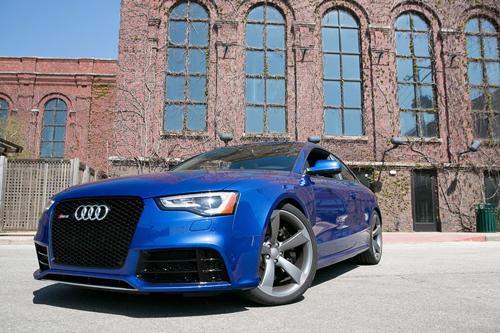 Cars.com's test cars are parked amid a vast sea of vehicles in a multistory parking tower; Audi's RS 5 was easy to spot with its unmistakable LED headlights, aggressive grille, carbon fiber accents and Sepang Blue pearl paint. Likewise, its throaty exhaust note is hard to miss.
The performance-oriented RS 5 slots above the already amped up S5 and regular A5 in price and power. It's equipped with a 4.2-liter V-8 good for 450 horsepower and 317 pounds-feet of torque.
Our test RS 5 coupe Quattro started at $68,900 but had an as-tested price of $77,320, including destination, thanks to goodies like the pearly paint, MMI Navigation Package, Titanium Package and sport exhaust system. Even without the options, it commands a hefty premium over the S5's $51,795 starting price and makes the A5, which bases at, $38,745, look like a bargain.
Check out Cars.com photographer Evan Sears' photos below.
Related
Research the 2013 Audi RS 5
2013 Audi RS 5 at Roebling Road Raceway Video
More Audi News