2014 Subaru Forester: Family Checklist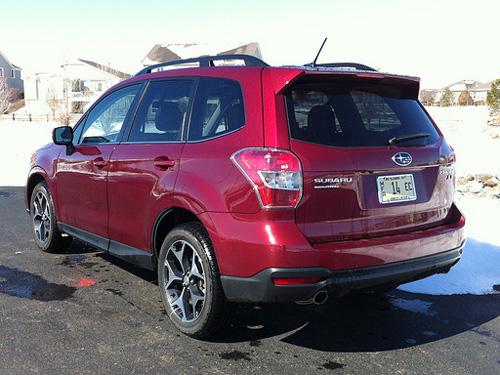 At first glance, the redesigned Subaru Forester doesn't look that different from its predecessor, but the 2014 model has added cargo room and even more family appeal.
This five-seat crossover also gets some serious retooling under the hood. I tested Forester 2.0XT Premium trim that zipped along with a 250-horsepower, turbocharged 2.0-liter four-cylinder. A majority of families will opt for the standard 170-hp, 2.5-liter four-cylinder, however.
The all-wheel-drive Forester was thoroughly confident and capable in all driving conditions. It handled like a champ with little body roll despite its height and had good road feel. There was considerable wind and road noise with this new Forester, which left me a little down in the dumps. Typically I would be cheered by its turbo four-cylinder boxer engine. And I was, but it was loud and I had to adjust to some turbo lag.
This crossover has a no-frills interior. That doesn't mean it doesn't have any niceties — my test car had heated front seats and a panoramic moonroof — they're just understated. That simplicity doesn't carry over to the Forester's information displays. The way Subaru presents its entertainment and driving information is more complex than it needs to be.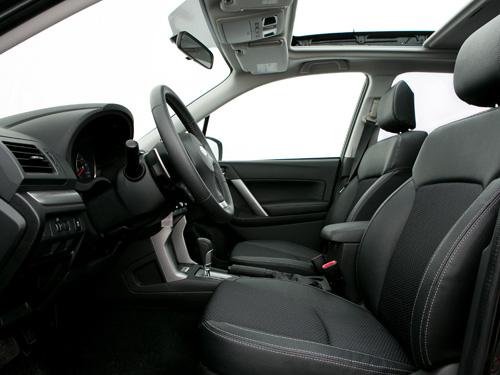 There's a small LCD screen that sits between the gauges for some data, and a new information display on top of the dash that's more in-depth, particularly with mileage data. It's also where the backup camera image is displayed. Then there's the multimedia system in the center stack. It had small type and tiny buttons on the touch-screen; I struggled to use the system at first — it's not nearly intuitive enough. The three screens were overwhelming, and I admit I tuned out most of it. It's a similar system to the one our editors have found fault with in Cars.com's long-term Subaru BRZ.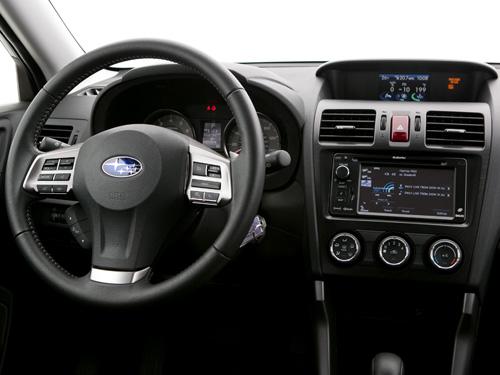 My kids, ages 8 and 10, loved the Forester. They could just climb right in and buckle up with ease. They were not daunted by tricky seat belt buckles or a lack of legroom. In fact, the legroom was fantastic (that's a 6-foot-1-inch man demonstrating legroom in the photo below), and a rear-facing infant seat fit in the backseat without issue. The two cupholders in the fold-down armrest are easy to reach, and my kids enjoyed the massive moonroof, which is standard on the 2.0XT Premium trim.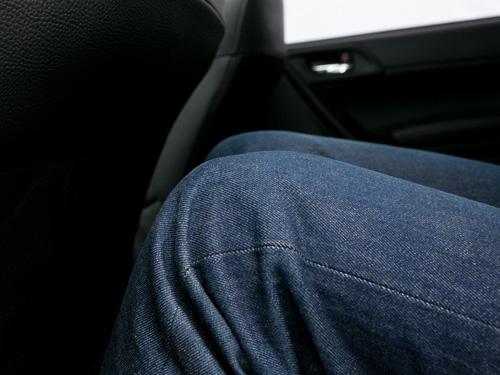 There are two seatback pockets that fit only skinny items. But don't worry; the massive cargo area will make up for the lack of backseat storage. The 2014 Forester has 31.5 cubic feet of cargo space behind the backseat and 68.5 cubic feet when the rear seats are folded. The 2013 model had 30.8 cubic feet behind backseat and 63.0 with the seats folded. The 2014 Forester passed the hockey-bag test with gusto. It could have handled more than the trip to Costco and full-size grocery store run that I put it through. I also made use of its standard power liftgate during those trips.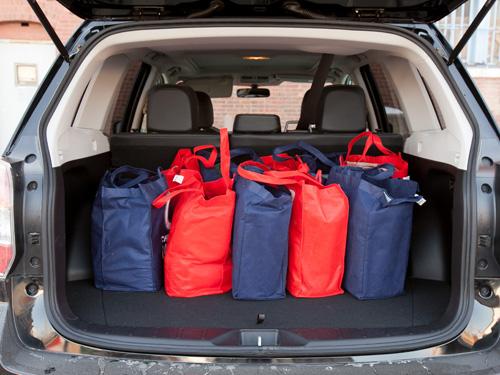 The redesigned 2014 Forester will undoubtedly keep the Subaru faithful happy, and newcomers will be thrilled with its roomy interior and cargo area.
Related
2014 Subaru Forester Review
2014 Subaru Forester: Car Seat Check
More Family News