Britax's ClickTight Simplifies Car Seat Installation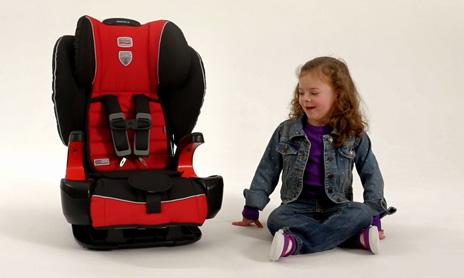 Latch or seat belt? While to most the question is cryptic, to parents the choice is as familiar as "cloth or disposable?"
When it comes to installing child-safety seats, the Latch system might seem easier, but what if I want to install a car seat in the middle seat, but there are no Latch anchors, only a seat belt? How do I properly lock a seat belt's automatic locking retractor? Do I need a locking latch plate or do I need to twist the seat belt stalk?
Britax has developed a new ClickTight Installation system that the car-seat maker says makes safety-seat installation with a seat belt incredibly simple. Britax's system is in both the Frontier 90 and Pinnacle 90 combination seats, which are forward-facing harness-to-booster safety seats.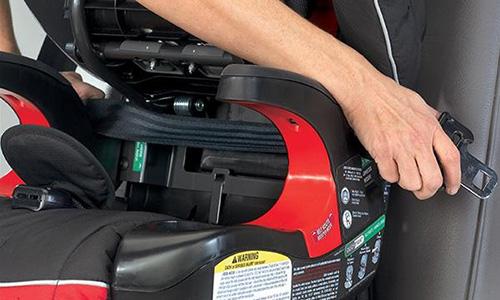 According to SafeKids Worldwide, 68% of all child-safety seats are installed using seat belts, and of those, 56% are installed incorrectly. Britax spoke to parents and discovered that they're desperate for a car seat that is easy to install securely every time without requiring help from a certified child-passenger safety technician. Sounds like an impossibly tall order, don't you think?

Britax developed a solution in its new ClickTight system. First, you open up a panel in the ClickTight-equipped car seat's bottom cushion. The vehicle's seat belt is then routed through the color-coordinated belt path (no more trying to squeeze your arm through that most likely crumb-filled hole in the back of the car seat), and buckled. Then you remove any seat belt slack and press the ClickTight panel closed. This locks the seat belt in place.

Voila! A properly installed child-safety seat that doesn't leave a path of broken fingernails, bloody knuckles and thrown-out backs in its wake. You'll still need to install the top tether as usual when using the combination seat with its harness.

Britax seats, generally speaking, aren't cheap, and the seats with ClickTight are no exception. The Frontier 90 has a suggested MSRP of $329.99, and the Pinnacle 90 has a suggested MSRP of $369.99. Both of these combination seats can be used with the five-point harness from the time a child is 2 years old and 25 pounds to when that kid reaches 90 pounds. They can then be used as a high-back booster seat until the child is 120 pounds and 62 inches tall.

If these ClickTight-equipped combination seats last for years and they're easy enough for Grandma and Grandpa to use safely, those big price tags aren't looking too scary, after all.

Related
Many Automakers' Latch Systems Difficult to Use, Study Finds
SaferCar App Help With Child Safety Seats Too
Car Seat Checks